Greece Elective
Please Note: If you plan to undertake the Internal Medicine/Geriatrics rotation at the University of Crete, you must apply through Dr. Vassilis Zannis (not Dr. Sarfaty). The deadline for all rotations is March 31. DO NOT CONTACT the hospital administration in Crete. ALL INQUIRIES must go through Dr. Zannis.
Students may not apply for a travel grant for this elective.
WHAT: Opportunity for students to undertake a one- to two-month clinical elective in Internal Medicine/Geriatrics. View Program Description, 2010 for more info.
WHERE: University of Crete Medical School, Heraklion, Crete, Greece.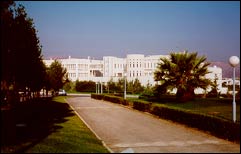 HOSPITALS: University Hospital (PEPAGNH), University of Crete Medical School
LIVING & COST: B.U. medical students are provided with the following:
Low-cost accommodations for about 20 Euros/night (double occupancy) in the Hotel El Greco. The hotel is in the center of

Heraklion

and has access to public transportation to all destinations.
Low-cost meals in the hospital (about 3-4 Euros per meal)
Public transportation at discounted (student) rate
Those interested may sign up for weekly lessons of the Greek language, culture, and Greek dancing.
All the above accommodations are arranged by a staff member in the International Office, Faculty of Medicine, University of Crete.
CAMPUS & RESEARCH FACILITIES: The campus includes the medical school, the Departments of Biology & Biotechnology, and five research institutes, including the Institute of Molecular Biology & Biotechnology. Institute of Molecular Biology & Biotechnology of Crete. Site: University of Crete and Basic Science Laboratories of the University of Crete Medical School
ENVIRONMENT: Crete is a Mediterranean island of unparalleled physical beauty and diversity. It is the site of the Minoan civilization (2500-1500 BC). Some of the palaces and art of this civilization are located within a short distance from the University of Crete campus.
LANGUAGE: The director of the Geriatrics Program (Dr. Boumpas) provides English instruction to the visiting students. Knowledge of the Greek language is helpful. Grand rounds are delivered in English.
HISTORY: The program is based on a bilateral agreement signed in December, 1999 between the deans of Boston University School of Medicine (Dr. Chobanian) and the University of Crete Medical School (Dr. Gourtsoyiannis).
INTERESTED? Contact Professor Vassilis Zannis, Ph.D., W-509, Tel. 617-638-5085, E-mail: vzannis@bu.edu