Fellowship Training at Boston Medical Center
A day in the life of a GI fellow video
Being a resident at BMC video
Recruitment video
Overview
Boston Medical Center (BMC) is a private, not-for-profit, 487-bed, academic medical center located in Boston's historic South End. The hospital is the primary teaching affiliate for Boston University School of Medicine. BMC emphasizes community-based care, with a mission to provide consistently accessible health services for all people.  The largest safety net hospital in New England, BMC provides a full spectrum of pediatric and adult care services, from primary care and family medicine to advanced specialty care.
Boston Medical Center is comprised of a single campus with the gastroenterology clinic, endoscopy unit, and inpatient unit that are all used for training purposes. GI fellows obtain experience in many diseases, including but not limited to: acute gastrointestinal bleeding, inflammatory bowel disease, acute and chronic liver disease, acute and chronic pancreatitis, acute and chronic biliary disorders, GI malignancies, GI complications of HIV disease, post-surgical GI complications, and feeding tube placement.
Gastroenterology Fellowship
The goal for our gastroenterology fellowship program is to create future leaders in GI. To help reach this goal, our program consists of four key components: clinical activities, procedural training, educational curriculum, and research experience.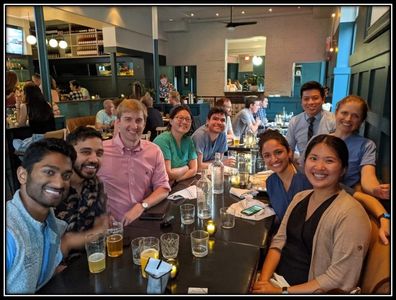 The first year is devoted to clinical training and is divided between Boston Medical Center and the Boston VA Medical Center.  First-year GI fellows spend about one-third of their inpatient time at the West Roxbury VA.
The outpatient gastroenterology and hepatology clinics are currently located in the Shapiro Building. This state-of-the-art facility houses several interdisciplinary ambulatory services including gastroenterology, surgery, and others involved in the management of patients with digestive diseases. Fellows are assigned one half-day subspecialty clinic per week for the duration of their fellowship, rotating every four months. During the second and third years, the fellows also engage in their own continuity clinic and also have the option to add additional subspecialty clinics to their schedules based on their career goals. Fellows also complete electives in nutrition, motility, capsule endoscopy, hepatology, IBD, and EUS/ERCP.
During the second and third years, fellows gain expertise in outpatient endoscopy.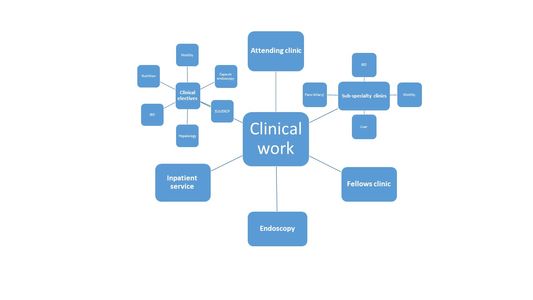 Second and third year fellows use the remainder of their time to carry out a research, clinical, or education project. The project commences during the second year, but fellows are given a 4 week hiatus block in their first year of fellowship to begin background reading and preliminary discussions with the faculty to identify a mentor. Fellows present their project work at local research seminars, local, and national meetings. All fellows are expected to become authors of scientific or clinical papers in excellent peer-reviewed journals.
Due to the academic nature of our program, fellows are expected to develop their own teaching skills through active participation at rounds, seminars, and conferences. A full range of clinical and research conferences are available every week at the hospitals and include: a GI radiology or pathology conference, morning GI conference, GI Grand Rounds, and liver tumor board. Board review occurs biweekly, and GI Research in Progress and Journal club are held monthly. In addition, numerous expert academic gastroenterologists from around the world are invited to speak at the Medicine and Gastroenterology Grand Rounds.
The training of fellows assumes a high priority at Boston University, and the welfare and future success of our trainees is of paramount importance to the faculty.