Ern Perez Appointed Associate Provost, Executive Director, BUMC IT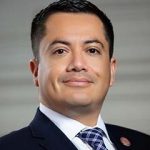 Ernie Perez has been appointed Associate Provost and Executive Director for BUMC IT. Perez began serving in the role on an ad interim basis in March, during which time he completed a reorganization, led the Learning Space Task Force to develop its first draft report, partnered with the Henry M. Goldman School of Dental Medicine to begin shared direction of their technology support team, and provided guidance and support to the School of Public Health on their new online MPH.
Perez joined Boston University in 2019 as Director of Educational Technology in the Digital Learning & Innovation group and IS&T. He previously served as Director of Instructional Technologies at California State University, Northridge, and as Instructional Technology Manager at Kansas State University. Perez also serves as faculty for multiple EDUCAUSE institutes.