School of Dental Medicine Celebrates Completion of Three-Year $115 Million Expansion, Renovation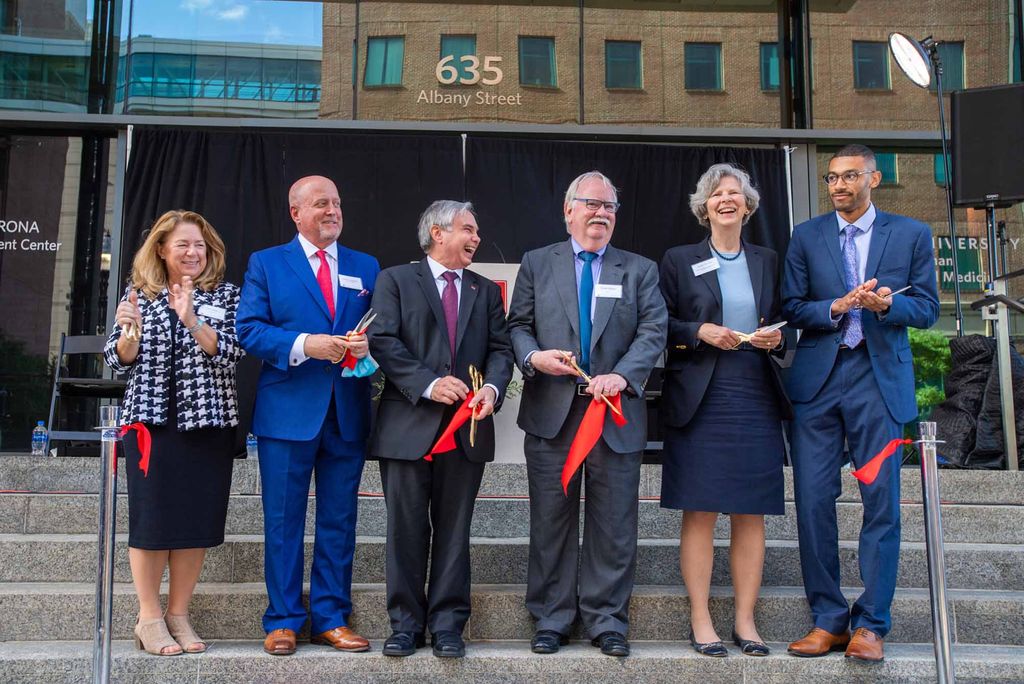 Boston University held a ribbon-cutting ceremony on Tuesday, September 21, to celebrate the opening of the redesigned and expanded Henry M. Goldman School of Dental Medicine. The event, held under a cloudless sky at the school's newly designed 635 Albany Street patient entrance, was attended by approximately 100 people, including University leaders, faculty, alumni, donors, students, architects, and construction executives. The ribbon-cutting marked the capstone of a three-year $115 million project designed to incorporate state-of-the-art technologies in both the education programs for future dentists and the treatment facilities they use to provide care for patients from nearby Boston neighborhoods.
"Today's opening is the culmination of over a decade of work, seven years of careful planning, and three and a half years of construction. As much as any construction project I have seen, this physical addition was driven by a careful program aimed at keeping dental education at Boston University at the forefront of the field," said President Robert A. Brown at the ceremony. "In physics, a quantum jump is an abrupt change in energy level. In common usage, a quantum leap is a big change. This new building is a quantum leap in the quality of the facilities for our great faculty and students."
The event included the announcement by Cataldo Leone, SDM dean ad interim, of support from Dentsply Sirona that has allowed the school to equip its newly updated and expanded patient treatment center with state-of-the-art technology, including new dental chairs in 100 patient treatment spaces, digital radiography equipment, and a team of lab technicians to assist faculty and students. In recognition of this support, the school is naming the patient treatment center after the company.
Read the entire BU Today story by Michael S. Goldberg.