New BUMC Executive Director of IT to start April 1
Lionel Zupan, PhD, will become the new Executive Director of IT for the BU Medical Campus, effective April 1, 2021.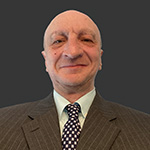 Most recently, Lionel served as Director of Research Technology at Tufts University in Somerville where he was responsible for centralized research technology core services including high-performance computing, bioinformatics, research software licensing, research data storage and management, geographic information systems (GIS), data science and analytics (including two Data Labs), visualization, courses, workshops and events.
Prior to that appointment, Lionel was Assistant Professor at Harvard Medical School and Principal Investigator at the Massachusetts Eye and Ear Infirmary in Boston.  As a researcher, Lionel investigated sensory-motor interactions in the Central Nervous System with a focus on visual-vestibular interactions and was funded by NIH and NASA.
Lionel holds a PhD in Image and Signal Processing / Neuroscience and an Engineering diploma in Computer Science Option Artificial Intelligence and Cognitive Science from the Ecole Nationale Supérieure des Télécommunications (Télécom Paris), Paris, France.