Publish Your Art in WHORL 2020, 25th Anniversary Edition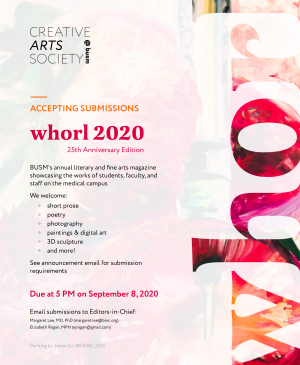 When the BUSM Creative Arts Society was founded, it began mounting Art Days and produced the literary journal, Whorl (all prior print and online editions are here). Now, at a time when our faces are either on a screen or half hidden behind masks, we need as much concrete, touchable, tangible beauty as possible.  Whorl 2020 is coming back as a limited print and online edition!
"Art is humanity and healing. Art is identity and catharsis. Art is life. We are grateful to be alive, and grateful to be able to connect through art," said Margaret Lee, MD, PhD, who was one of the founders of the Creative Arts Society and of Whorl.  Several years ago, she returned to the Medical Campus as a faculty member in pediatric dermatology and advisor for the preclinical Narrative Medicine enrichment course.  Dr. Lee also serves as co-advisor of the Creative Art Society.
Students, Faculty, Staff: Share your talents in Whorl
Whorl will print short prose, poetry and any visual art you can do justice to in print. Due to production constraints, to be considered for publication you must submit NO MORE THAN TWO ENTRIES with the following formatting:
Written work must fit on no more than two 5.5 in x 8.5 in pages in Calibri 12-point font with one-inch margins.  (final font style and size to be determined)
Visual art can be submitted in black & white or in color, and fit ONE 5.5 inch x 8.5 inch page in either orientation (vertical vs horizontal).
If you would like to publish images of a 3-dimensional piece, please submit 2-3 panels showing different angles, but the combined panels must fit ONE 5.5 inch x 8.5 inch page.
Visual pieces must be minimum of 300 dpi, ideally in TIFF or PNG format.
Submissions are due by 5 p.m. EDT Sept. 8, 2020.   
Please submit electronically to the Editors-in-Chief:
Margaret Lee, MD, PhD (Margaret.Lee@bmc.org)
Elizabeth Ragan, MPH (ejragan@gmail.com)
If you'd like to contribute financially to this effort or the Creative Arts Society in general, please visit bu.edu/give2busm, choose the "Dean's Discretionary Fund," and write "Creative Arts Society" in the comments. Support the healing power of the arts!