Weekly Safe Return to BUMC Update: May 29
BUMC Facilities has been preparing the Medical Campus for the incremental resumption of research and the anticipated return of our students to the clinics and classroom as per CDC, Commonwealth and University guidance to provide a safe environment for all members of our community.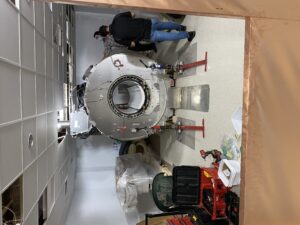 Furthermore, construction has continued on the MRI Imaging center. The 3.0 Philips (Ingenia Elition X) MRI arrived yesterday and is being installed today. Construction is nearly complete on Center for Translation Neurotrauma Imaging (CTNI) located in the X Building. The state-of-the art center also will feature new preclinical MRI (9.4 T, Bruker BioSpec) and ultrasound (Vantage 256, Verasonics) platforms. Supported by an award from the Massachusetts Life Sciences Center's Capital Program, the new imaging core facility co-directed by Stephan Anderson, MD, and Lee Goldstein, MD, PhD, aims to serve the imaging needs of the broad scientific community at BU and beyond. Kudos to John Barton for getting this important work approved to proceed during the COVID-19 shutdown. It is the first project completed at BU within the new construction guidelines.
This week and early next week the Building Coordinators and members of Environmental Health and Safety (EH&S) are touring each floor of our campus buildings to check that required adjustments are in place so that we can safely begin to approve initial ramp-up of laboratory research.
---
Building Coordinators include:
School of Medicine: Andrew Taylor, Associate Dean for Research, and John Barton, Executive Director, BUMC Facilities
Henry M. Goldman School of Dental Medicine: Andrew Burke, Director of Facilities and Operations
School of Public Health: Ira Lazic, Associate Dean for Administration, and Michael Koehler, Manager of facilities and Building Operations
---
When faculty, staff and students return to the Medical Campus, please carry your BU ID with you at all times to ensure building access and allow for extra time in getting to your destination, particularly upper building floors.
You will be expected to wear a mask while on campus, maintain a 6-foot distance from others and wash or disinfect your hands frequently.
Building Entrances and Exits: All revolving doors are now roped off with designated entrance and exit signs.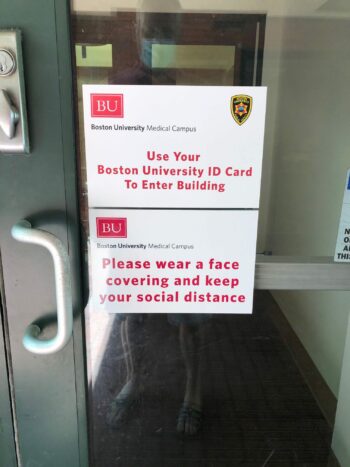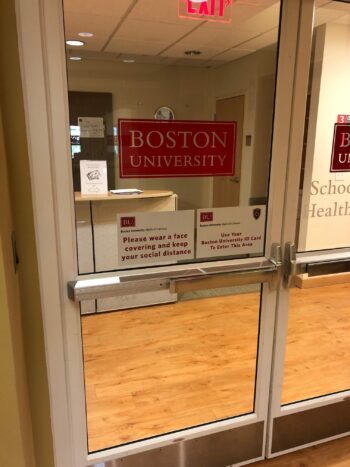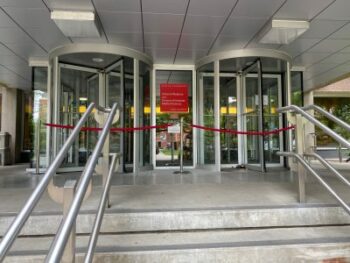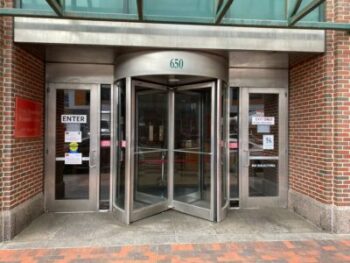 Corridors, Stairwells and Elevators: signs in corridors, stairwells and elevators now indicate one-way or two-way to facilitate appropriate physical distancing. Signs indicate how many passengers at a time may be on elevators (often just one).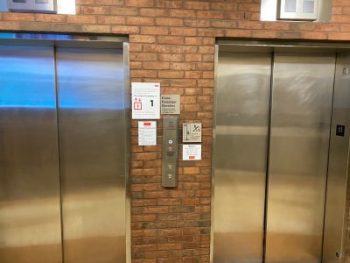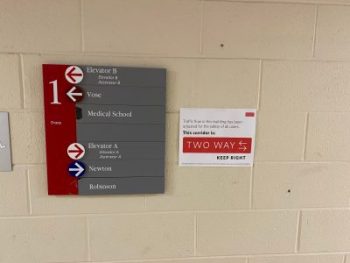 Common and kitchen areas remain closed. Some furniture in common areas, such as the Instructional Building Lobby, has been removed to ensure physical distancing.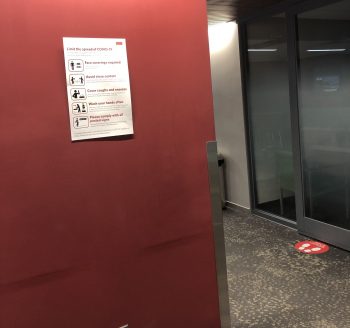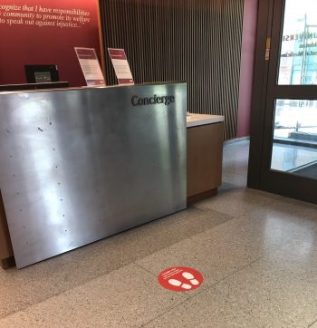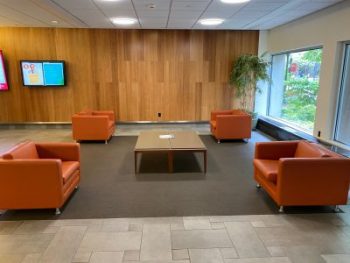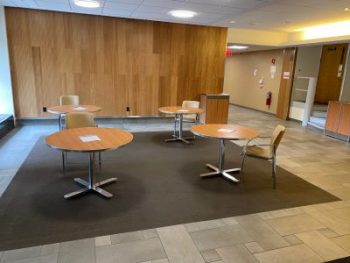 Cleaning: Campus common areas, restrooms, as well as high-touch surfaces such as elevator buttons, stairwell hand rails, door handles and push plates will be cleaned and disinfected several times a day.
We will continue to provide updates on reopening our campus each week.