GSDM Celebrates "Topping Off" of Addition, Renovation Construction Project
Wet weather couldn't dampen spirits as the Henry M. Goldman School of Dental Medicine community gathered on Friday, March 29, 2019, to celebrate the "topping off" of the School's Addition and Renovation Construction Project.
Huddled under umbrellas and clad in rain ponchos, a crowd of about 100 watched as a crane hoisted a large steel beam—painted white, covered in signatures, and adorned with an evergreen tree and an American flag—into the air and placed it onto the existing steel skeleton. Walking on the beam, two ironworkers from Ironworkers Local 7 secured the beam in place as the audience below cheered.
"Today's ceremony is an opportunity to celebrate the truly remarkable work that has been completed to date," said Dean Jeffrey W. Hutter. "It is also a moment to recognize and acknowledge the crew of workers who are on site every day – and in particular, the workers from Ironworkers Local 7, who have done an absolutely incredible job at erecting the steel skeleton for the additions to our building."
A "Topping Off" ceremony celebrates the placement of a structure's uppermost steel beam and dates back  1,000 years to ancient Scandinavia, when Viking chieftains would hoist an evergreen tree atop a newly finished building to celebrate its completion and appease the tree-dwelling spirits displaced during construction. In present day, ironworkers have carried on the tradition, as iron and steel have replaced timber as primary building materials for most buildings.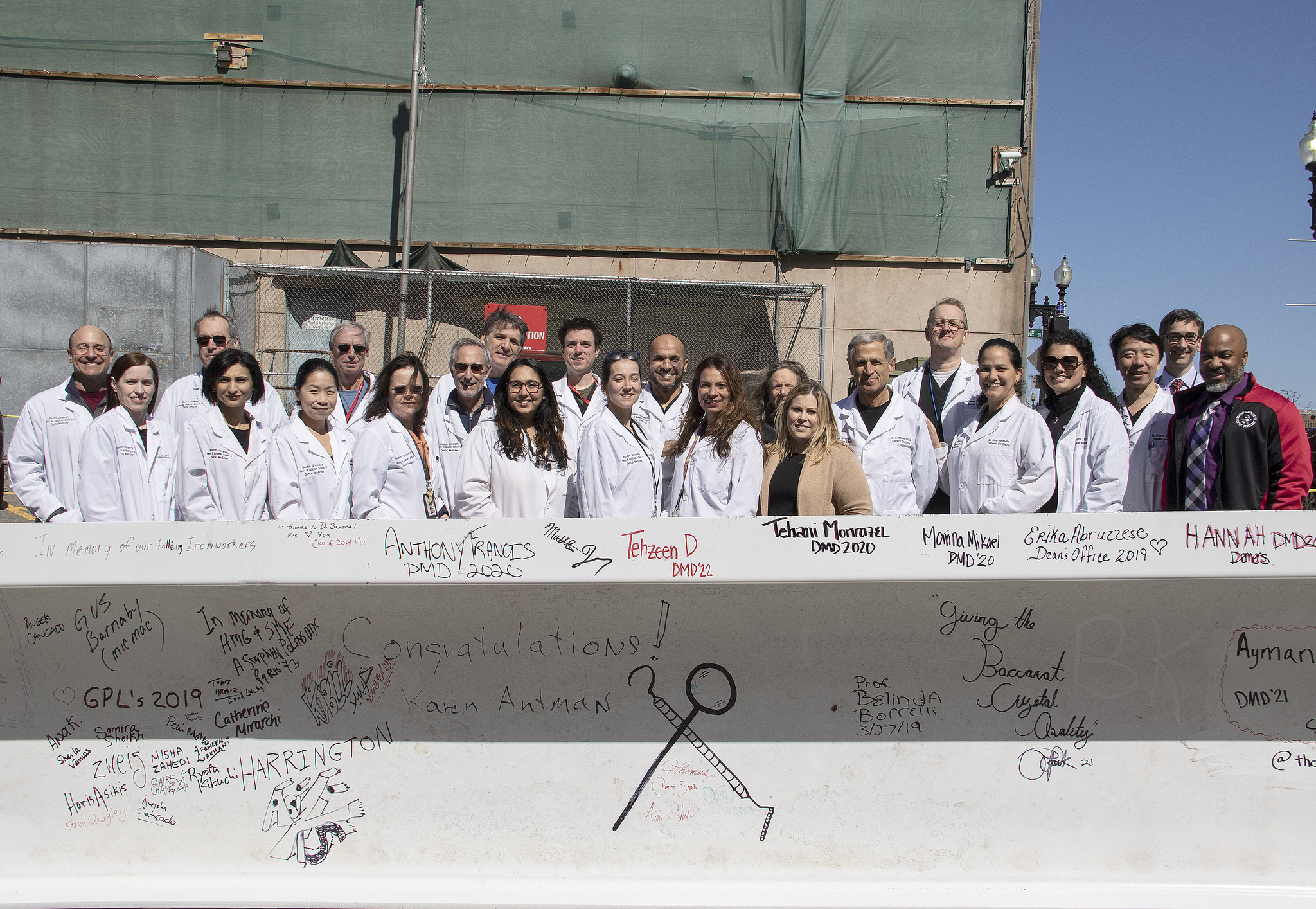 In the days leading up to the ceremony, members of the GSDM community—faculty, staff, students, residents, fellows, alumni, and others from Boston University, the City of Boston, SmithGroup, Compass Project Management, and Shawmut Design and Construction, who have all played an important role in the construction—were invited to sign the beam so that, according to Dean Hutter, "a small piece of each [of you] will be carried into the future of the new building."
Kevin Honan, Massachusetts state representative of the Seventeenth Suffolk County District, consisting of Allston and Brighton, and newly appointed chair of the Commonwealth of Massachusetts Oral Health Caucus, attended the Topping Off ceremony and also had an opportunity to sign the beam before it was placed onto the structure.
The ceremony began with opening remarks from Dean Hutter. The audience then heard from Gary Nicksa, Boston University senior vice president for operations; David Johnson, SmithGroup vice president and higher education design strategist; Christy Murphy, senior project manager with Compass Project Management, Kevin Sullivan, vice president New England institutional for Shawmut Design & Construction. Jeremy Long, corporate safety director for Prime Steel Erecting, who spoke from his heart as to the skill and dedication of his fellow ironworkers, rounded out the speeches.
"We've created something incredible right here," said Mr. Long. "I couldn't be more proud to be here today, and to top off this project with each and every one of you."
After the ceremony, the crowd moved inside the Henry M. Goldman School of Dental Medicine through the new Patient & Visitor Entrance into the new Patient Treatment Centers' Waiting Area, which had been converted into a reception space complete with high-top tables and a buffet spread of light refreshments.
The ceremony took place a mere 51 weeks after the project's groundbreaking ceremony.  Since then, the school has unveiled a new Patient Treatment Centers' Waiting Area and Patient & Visitor entrance on Albany Street as well as several new office suites on the first floor and a state-of-the-art central sterilization room in the basement.
When construction is completed, GSDM's updated building will have 48,000 additional square feet and a new, contemporary façade. The building will house new administrative, instructional, and clinical spaces, as well as a 140-seat auditorium, a 100-chair technologically advanced Predoctoral Patient Treatment Center, a 117-station Simulation Learning Center, and space for collaboration and multifunctional learning. The building construction and renovation project is slated to be complete in February 2021.
For photos of the ceremony, please visit the Flickr album.