TranSComm Kicks-off Neighborhood Walks Aug. 23, Registration Required
TranSComm is sponsoring guided walking programs at the BU Medical Campus. Along with walking to improve health, these walks tap into the rich history of our neighborhood. Teaming with WalkBoston, TranSComm is offering five lunchtime walks: one in August, three in September and one in early October. The following will be offered: Medical History, Discover Roxbury and Southwest Corridor walks.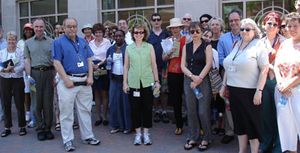 The first walk this season is Discover Roxbury,  Thursday, August 23.   Roxbury native and neighborhood historian Stacy Hill-Sutherland will take participants on a colorful and informative tour of Lower Roxbury. The walk will include Roxbury's contemporary history including Boston's Jazz era and some of the early Civil Rights Movement in this historic community. Along the walk participants we will see interesting architecture, murals and outdoor art.
Registration is absolutely necessary as spaces are limited and registration will be accepted on a first-come, first-served basis. To register go to http://www.bumc.bu.edu/transcomm/2012walks/ You will be sent confirmation via email with specific information.
Please note: All walks start at noon.  They meet at the lobby of 85 East Concord St.  All walks last 50 minutes. If it's raining, please bring an umbrella as no rain dates are planned. Hats and/or umbrellas are useful if it's an especially hot day. Wear comfortable shoes! TranSComm will provide water.