Visiting Professor Mary Jane England Touts Integrated Care at BUSPH Public Health Forum
Shoes and bras. Those were the two tangibles that Mary Jane England recalled about her time spent treating patients in state psychiatric institutions – long before she would go on to chair an Institute of Medicine committee charged with exploring ways that mental health and substance-use care could be improved. The men's shoes: Ordered in bulk in the same size for all patients, causing podiatry problems. The bras: Also ordered in one-size-fits-all, adding to women's aches and pains.
"The mentally ill die earlier – not from mental illness, but from medical problems," England, a psychiatrist, said at a BUSPH forum Wednesday focused on ways to integrate mental health and substance abuse treatment into the healthcare system. "When mental health is [adequately] treated, the incidence and costs of medical care are lower."
England, a visiting professor in the Department of Health Policy & Management, spoke of the need to integrate mental health care and physical care. She cited statistics showing that 80 percent of people with behavioral health disorders visit a primary care practice at least once a year, and that 50 percent of all behavioral health disorders are treated in primary care settings.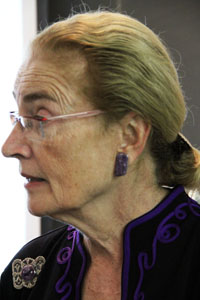 "We need to find a way to get primary care practitioners comfortable in providing behavioral health care," she said. "We need a 'whole person' orientation in primary care. . . . The reality is that people with mental health problems are being seen in primary care. They're just not getting good care."
In addition to her new role at BUSPH, England is chairing a steering committee of a Colorado project called Advancing Care Together [ACT], a four-year effort that is bringing together experts in primary care, substance abuse and mental health to pilot and evaluate integrated-care approaches. She said she is proud of that effort, which followed from her IOM committee work.
"We do all this good [research] work and it goes on the shelf," she said. "The translational issues are enormous." The ACT project aims to evaluate whether integrated care delivery works – to improve health outcomes and save money, among other things – and if so, which delivery models work best.
"It is so hard to change behavior," she said of the health care field, in which she has worked in myriad capacities since she trained as a psychiatrist on the BU medical campus. "We continue to work in our silos.
"We're going to be really looking at climate change – how to get providers to change their behaviors" at the 11 Colorado sites participating in the ACT project, which she hopes will help to shape national care models.
England, who served as president of Regis College for 10 years and previously headed the Massachusetts Department of Social Services, said she was grateful for the chance to re-enter the health policy field at BUSPH, at the invitation of Dean Bob Meenan. Among her projects will be a review of mental health services for students on the medical campus, which is scheduled for completion by December.
England said recent advances in understanding "the science of the brain" in treating depression, addiction and other behavioral health disorders were exciting. Now, she said, the challenge is to make the same kind of gains in healthcare delivery systems.
"We need patient outcome data" that shows that integrated care works, she said. "That's what we hope to achieve."
Submitted by Lisa Chedekel