One Brady on the Field, One in the Field: QB's Sister, Studying at BUSPH, Brings Help to Uganda
While Boston was fixated on the status of her brother's injured knee during the 2008-09 football season, Nancy Brady quietly slipped off to Kampala, Uganda, for a six-month fellowship that would bring her into contact with doctors, nurses and villagers battling global diseases such as HIV/AIDS, tuberculosis and malaria.
Never one to seek out the limelight, Tom Brady's older sister, a sales and marketing representative for Pfizer, had made several prior trips to Africa with philanthropic organizations. But it was the Pfizer fellowship at the Infectious Disease Institute in Kampala that sharpened her interest in global health.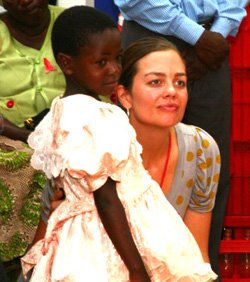 This fall, her experience in Kampala propelled her on two paths: She enrolled in the BU School of Public Health as an MPH candidate, and she gave back to the Institute by throwing a fundraiser in Boston this month that netted a whopping $250,000.
"I've been to Africa before, and I've done some fundraisers, but spending half a year in Uganda really had an impact on me," Brady explained. "When I came back, I just felt like I wanted to do more. It's one of the reasons I went back to school … My passion for global health was always there, but I wanted more knowledge. The issues are so incredibly complex."
Brady ended up in Uganda by applying to participate in Pfizer's social responsibility program, which gives employees a chance to work for non-government agencies, or NGOs, serving at-risk communities. The Infectious Disease Institute [IDI], established in 2004 with support from the Accordia Global Health Foundation, is a Ugandan-run training and research center that seeks to expand the health-care workforce and capacity in Uganda and the region, in order to scale-up HIV, malaria and tuberculosis prevention and treatment.
While in Uganda, Brady worked in IDI's communications and training program, interviewing healthcare workers who had been trained at the Institute and evaluating a mid-level HIV training program for nurses. The fellowship took her into villages, hospitals and schools – an experience that she said raised her awareness that the challenge of addressing disease is not just supplying medicines to remote areas, but ensuring that there are trained healthcare providers to educate and care for the people who live there.
"So much of global health is capacity-building," she said. "That's what the Accordia Global Health Foundation and subsequently the IDI is all about."
On one of her trips upcountry, a doctor at the Institute, Dr. Walter Schlech, took her to a remote village near Mpigi, called Tabiro, where she visited an elementary school that was founded during the height of the HIV/AIDS epidemic. The Tabiro Primary School now has 500 students, about a quarter of them orphans.
In the US, her brother, Tom, while rehabbing his knee, had been approached to help out the One Laptop Per Child program, which supplies computers around the world. When asked where he would want to send computers, he mentioned Nancy's work in Uganda, which the two had visited together in 2007, on a trip organized by DATA, an African advocacy organization founded by U2's Bono. Brother and sister worked together to get a shipment of laptops into Ugandan classrooms.
This month, her brother stepped up again to help, when Nancy hosted a pre-holiday fundraiser for Accordia Global Health Foundation at L'Espalier Restaurant in Boston. Tom and his wife, fashion model Gisele Bündchen, were among more than 150 attendees who helped to raise $250,000 for the foundation, as well as $22,000 for a computer trainer who will assist Tabiro with the laptops.
Nancy Brady said the event was a success not just in terms of fundraising, but also because it brought together people from different walks of life — athletes, academics, scientists and activists — who share a desire to "empower Africa in the fight against HIV/AIDS, malaria and other infectious diseases."
Nancy, 34, the youngest of Tom's three older sisters, said she and her brother have always supported each other professionally and philanthropically. She moved to Boston from their native California eight years ago to be close to her brother.
"He has always been supportive of me, the same way I'm supportive of him," she said. "A lot of the opportunities I've had have come because of the family I was born into — I realize that. But we also share a commitment to look beyond our family and be engaged in the world."
A social welfare major in college at UC-Berkeley, Nancy had spent her early career working with homeless and impoverished people in San Francisco. While at Pfizer, her interest in social-justice issues has led her to make several philanthropic visits to Africa, including a trip to Ghana and Sierra Leone this year with a women's delegation organized by a Washington, DC, group.
Her decision to go back to school to earn her MPH was a long-time goal. BUSPH's International Health program, which focuses on empowering communities to address their own health issues, seemed a perfect fit for her interest in capacity-building, she said.
While at BU, Brady has kept a low profile, juggling class work, her job and her family obligations, like so many other MPH candidates.
"I want people to know me as me — not because of who my sibling is," she said. "I'm here to learn — it's part of who I am, wanting to learn and grow and evolve."
"I come from the industry side of global health, but I do think industry plays a major role, in terms of being an impetus for change, conveying a message, tackling some of the major issues in Africa and other parts of the world," she said. "I want to be part of that change."
Submitted by Lisa Chedekel