BU Poised to Impact Cancer Research: Cross-campus collaboration nets $2 million NIH nanomedicine grant
The National Cancer Institute's Alliance for Nanotechnology in Cancer has tapped a multidisciplinary research team, comprising members of the Charles River and Medical Campuses, to launch a training center to help grow the next generation of nanomedicine researchers in cancer. The announcement comes with a five-year, $2 million grant.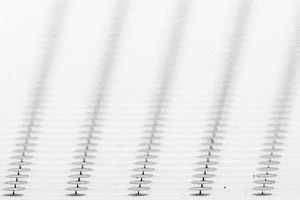 An offshoot of nanotechnology, nanomedicine is medical intervention at the molecular scale for treating disease or repairing damaged tissues. A nanometer is one-billionth of a meter, too small to be seen through a conventional laboratory microscope. Biological molecules and structures inside living cells typically operate at less than 100 nanometers. Harnessing nanoparticles to deliver drugs, heat, light, or other substances to specific cells could dramatically alter the future of diagnoses, prognoses, and treatments for a range of diseases. Traditional chemotherapy, for example, is delivered through the vein and exposes the entire body to its potent effects.
"If you can deliver chemotherapy specifically to sites, you not only concentrate the chemotherapy at the site of the tumor, but decrease the side effects and off-target effects," says Douglas Faller, a School of Medicine professor, director of the BU Cancer Center, and one of the grant's primary investigators. "We're taking a very blunt instrument, systemic chemotherapy, and turning it into a targeted approach."
In 2009, cancer was responsible for over 550,000 deaths in the United States, approximately one out of every four, according to the researchers. New diagnoses in 2010 are anticipated to top 1.5 million and deaths to come close to 570,000, with projections growing as the population ages.
The $2 million training center grant, distributed under the umbrella of the National Institutes of Health, will allow graduate students and postdoctoral fellows at BU to train in research labs focused on developing diagnostic and therapeutic tools for various types of cancer, from purification of micro RNAs—molecules that play an important role in gene regulation—to the development of noninvasive imaging and detection of cancer cells. The center will be called the Boston University Center for Cross-Disciplinary Training in Nanotechnology for Cancer.

A new cross-disciplinary course, Introduction to Nanomedicine, has also been developed and will be cotaught by faculty from both physical and life sciences and engineering, as well as by medical researchers, and codirected by Katya Ravid, a MED professor of medicine and biochemistry and director of the Evans Center Interdisciplinary Biomedical Research (Evans Center), and Mario Cabodi, a College of Engineering research assistant professor of biomedical engineering.
"I have always believed in the power of trainees to serve as a bridge between departments and faculty, through exchange of concepts, technologies, and participation in common workshops," Ravid says.
BU's multidisciplinary research effort, known as the Nanomedicine Initiative, brings together the Charles River Campus Center for Nanoscience and Nanobiotechnology (CNN) with the Cancer Center, the Evans Center, and the MED department of medicine on the Medical Campus. "We think this grant is a stepping-stone to even bigger things," says CNN director Bennett Goldberg, a College of Arts & Sciences physics professor and one of the grant's primary investigators.
"Another important aspect to the award is being part of the NCI Alliance, which will couple our efforts with other centers for cancer nanotechnology around the country," Goldberg adds. "For example, locally the MIT/Harvard center will be sending their students to our workshops, and we will make use of their nanomaterials toxicology testing lab."
The story of BU's cross-campus medical collaboration began in fall 2008—well before the NIH announced the training centers program—when CNN, the Evans Center, MED's department of medicine (DoM), and Andrei Ruckenstein, vice president and associate provost for research and a CAS professor of physics, saw an opportunity for the University and began pursuing a new program in nanomedicine. At the heart of the mission: build long-term collaborations across the two campuses. Goldberg and Ravid began organizing meetings with physics and engineering colleagues and MED researchers and clinicians and set up a series of lectures and workshops explaining how nanotechnology could impact cancer, cardiovascular disease, and infectious disease.
"We built the infrastructure and support to allow researchers who develop nanotechnology to connect with physicians and medical researchers and apply their discoveries to critically important issues in human health," says Goldberg. "The scientists on the Charles River Campus are thrilled and energized to see such rapid adoption of new ideas and techniques and the MED faculty are excited by the opportunity to advance their areas of biomedical science and health care."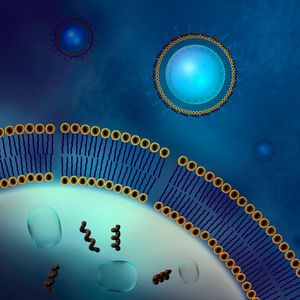 In fall 2009, Goldberg, in collaboration with Ravid, representing the Evans Center, announced a request for funding proposals, requiring that the research include faculty from both MED, and on the Charles River Campus, nanotechnology. CNN, with the support of the Evans Center, DoM, ENG, CAS, the Provost's Office, and the Photonics Center, funded 11 seed projects. They include: developing a screening test for thyroid cancer, using ultrasound to release drugs from nanoparticles, and studying tumor cell circulation and adhesion. In total, $400,000 was committed internally and led to more than 30 researchers, clinicians, and faculty from across the University working together. This work later formed the basis for the NIH grant application.
"The coupling of a serious commitment to excellence in training with a strong, interdisciplinary research focus is what the Alliance was looking for when it established the Cancer Nanotechnology Training Centers initiative," says Alliance for Nanotechnology in Cancer spokesperson Dorothy Farrell. "We expect that the BU center's combined strengths in research and training will produce young scientists who will bridge the divide between scientific research and clinical application and be capable of moving cancer nanotechnology to the next stage of development."
Karen Antman, dean of MED and provost of the Medical Campus, says she is thrilled about the NIH award. "Hopefully, this successful collaboration will inspire other innovative collaborations between faculty on the two campuses."
This BU Today story was written by Caleb Daniloff. He can be reached at cdanilof@bu.edu.