Dr. Paula Friedman Visits Russia and Poland with People to People
Associate Dean for Strategic Initiatives, Director of Geriatrics and Gerontology, and Director of the Geriatric Dentistry Fellowship Program at GSDM Dr. Paula Friedman led a delegation of 14 dentists from across the US to St. Petersberg, Russia and Warsaw and Krakow, Poland as part of the People to People Ambassador Program.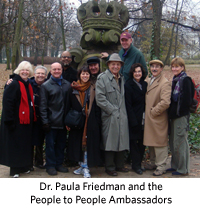 The purpose of the trip was to learn about dentistry in Russia and Poland. To achieve this goal the group visited private practices, dental schools, and met with the Council of Physicians & Dentists—an organization similar in scope to the American Dental Association, but with licensing authority—in Warsaw.
This is the second People to People trip that Dr. Friedman led, the first was to China in 2004.
During her trip Dr. Friedman noticed some similarities and differences between dentistry in the U.S. and Russia and Poland. She explained, "The offices and schools we visited were very advanced in terms of technology and overall dental care. I was very impressed with the facilities and the state of knowledge. One of the major differences that I noticed was the educational model." Dr. Friedman continued, "Their dental program is a five-year program that begins after high school. Once students finish the program they must complete a one to three-year internship in a dental office."
The group was also able to visit some of the sights in Russia and Poland. A collection of Dr. Friedman's photos from the trip are available on GSDM's flickr account.