Imaging mass spectrometry
The MSR uses imaging mass spectrometry using both MALDI-TOF and MALDI-FT-ICR instrument formats. Investigation of lipid and protein expressions related to traumatic brain injury (TBI) and chronic traumatic encephalopathy (CTE) are strong focuses in this project.
TBI is a leading cause of death and disability and usually caused by bump, blow or jolt to the head or penetrating head injury that disrupts the normal function of the brain. In 2010, 2.5 million TBIs were reported. The effects of TBI can include impaired thinking or memory, movement, sensation (vision, hearing), emotional function (depression, personality changes). Moreover, TBI introduces a significant risk for age-related neuro- degenerative diseases, e.g., Alzheimer (AD), frontotemporal dementia (FTD), amyotrophic lateral sclerosis (ALS), and chronic traumatic encephalopathy (CTE)
Read more about TBI and the TBI mouse model at Boston University School of Medicine.
CTE is often found in people with a history of repetitive TBI, including symptomatic concussions and subconcussive hits to the head. It is a progressive neurodegenerative disease and often associated with memory loss, confusion, impaired judgment, impulse control problems, aggression, depression, and suicide. CTE has been found in military veterans, boxers, football and hockey players.
Read more about CTE and the CTE Center at Boston University. Watch the video about CTE.
MALDI-MS imaging has demonstrated great potential to provide label-free histological information by acquiring and displaying sequential mass spectra across tissues. We have built up strong collaborations with the Molecular Aging & Development Laboratory, Boston University Alzheimer's Disease Center, Center for the Study of Traumatic Encephalopathy, VA Boston Healthcare System, and the SLI-BU CTE Brain Bank.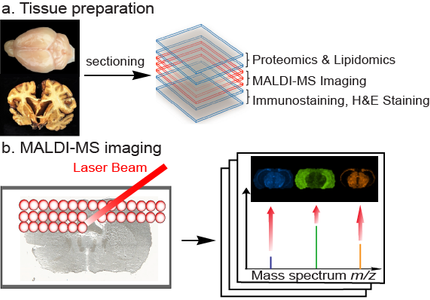 We utilize MALDI-MS imaging to understand the disease progression and provide potential biomarker information to our collaborators. We use the Bruker SolariX 12-T FT-ICR MS and Bruker UltrafleXtreme MALDI-TOF/TOF MS to monitor microvascular disruption, myelinated axonopathy, and neuropathological sequelae in postmortem human brains from subjects with and without neuropathologically-confirmed CTE and in established mouse models of TBI produced by concussive impact injury.
Histology-guided mass spectrometry imaging experiments are conducted by using adjacent tissue sections for immunostaining and MALDI-MSI analysis. Various lipids and proteins are monitored using MALDI-MS imaging, carried out in both the positive- and negative-ion modes. The observed anatomical distribution provides valuable information for hemorrhagic vascular disruption in TBI and CTE tissues. The measured lipid and protein distributions and their profile changes may be associated with the biological consequences of TBI and CTE. Specific molecular distribution information provided by MALDI-MS imaging provides critical new insight into understanding the pathology of CTE and TBI.