Gerald V. Denis, PhD
Title: Assistant Professor of Pharmacology and Medicine; Flow Cytometry Core Facility
Education: A. B. Harvard College; M. Sc. University of Tokyo; Ph. D. University of California, Berkeley
Research interests: The overall goal of my lab is to understand the fundamental mechanisms of transcriptional control of growth and development, and particularly, how chromatin-based disruptions of the eukaryotic cell cycle can lead to malignancy. Results to date have broad significance for our understanding of adaptive immunity, B cell proliferation and non-Hodgkin's lymphoma (NHL).
Medical significance: NHL is one of the major neoplastic diseases contributing to the mortality of men, women and children in the United States. Th American Cancer Society  estimates a lifetime risk of NHL of 1/46 for men and 1/55 for women. Recent trends indicate rising incidence rates, which have nearly doubled since the 1970's. Significant new effort will be required to improve five-year survival rates.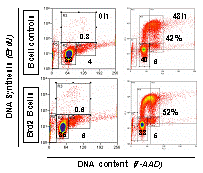 Techniques in active use and development: Mass spectrometry of lymphoma cells, including advanced proteomics applications; two-dimensional reference maps of B cell proliferative states; MALDI-TOF; liquid chromatography-tandem mass spectrometry (LC-MS/MS) for peptide identification, particularly of chromatin modifying and nucleosome remodeling machines, such as Swi/Snf complexes; and studies of post-translational modification. Our genome-wide gene expression microarrays have identified new biomarkers for human lymphomagenesis, detection of relapse and NHL risk assessment. We use transgenic and knockout mouse models; multiparameter flow cytometry of B cell proliferation; stem cell transplantation and immune system reconstitution to address hypotheses about the role of Brd2 in immune cell proliferation. Basic molecular biology including molecular cloning, histone acetylation enzymatic assays, chromatin immunoprecipitation, real time PCR, cellular immunology and transcription.
Clinical interests: B cell leukemia and lymphoma. Immunodeficiency and lymphoid cell proliferation. Translational studies with novel, telomere DNA-based therapeutics for NHL.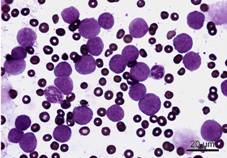 Research summary: We developed a transgenic mouse model for B cell NHL with constitutive B lineage expression of a newly described oncogene, the double bromodomain protein Brd2, which is related to the essential transcription factor TAFII250. Brd2 functions at least in part through a chromatin-dependent pathway that targets the gene cyclin A and promotes S phase events Brd2 complexes recruit E2Fs and histone H4-directed histone acetyltransferase to the cyclin A promoter, contributing to cell cycle control in B cells. In transgenic mice, constitutive Brd2 expression destabilizes the cell cycle, leading to NHL-like malignancy and peripheral leukemia (shown here). Whole-body and B cell-restricted brd2 knockout mice are under development and will enable us to test the role of Brd2 in B cell proliferation.
Our recent genome-wide transcriptional profiling (shown here) and mass spectrometry studies of NHL have revealed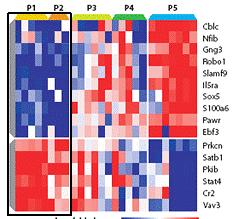 with the highest degree of detail that malignant B cell proliferation resembles normal proliferation, but also departs from normal biology in important and specific ways. In particular, proper control of chromatin structure, which is the packaging material of cellular genes, is essential for cell cycle regulation and proliferation. Misregulation of chromatin plays a critical role in the development of leukemia and lymphoma, and exploration of these mechanisms is likely to lead to deeper understanding of how lymphoid cancers arise.
Recent Publications:
Greenwald R., J. R. Tumang, A. Sinha, N. Currier, R. D. Cardiff, T. L. Rothstein, D. V. Faller and G. V. Denis (2004). E(mu)-BRD2 transgenic mice develop B cell lymphoma and leukemia. Blood 103: 1475 – 1484. PMID: 14563639
Sinha, A., D. V. Faller and G. V. Denis (2005). Bromodomain analysis of Brd2-dependent transcriptional activation of cyclin A. Biochem. J. 387: 257 – 269. PMID: 15548137
Longe, H., D. V. Faller, and G. V. Denis (2005). Telomere-based pre-clinical therapy in a murine model of non-Hodgkin's lymphoma of the diffuse large B cell (DLCL) type. Blood 106: 607. PMID: 16512664
Denis, G. V., M. E. McComb, D. V. Faller, A. Sinha, P. B. Romesser and C. E. Costello (2006). Identification of transcription complexes that contain the double bromodomain protein Brd2 and chromatin remodeling machines. J. Proteome Res. 5: 502 – 511. PMID: 16512664
You, J., V. Srinivasan, G. V. Denis, W. J. Harrington Jr , M. E. Ballestas, K. M. Kaye and P. M. Howley (2006). The Kaposi's Sarcoma-Associated Herpesvirus Latency-Associated Nuclear Antigen interacts with bromodomain protein Brd4 on host mitotic chromosomes. J. Virol. 80: 8909 – 8919. PMID: 16940503
Lenburg, M., A. Sinha, D. V. Faller and G. V. Denis (2007). Tumor-specific and proliferation-specific gene expression typifies murine transgenic B cell lymphomagenesis. J. Biol. Chem., 282: 4803-4811. PMID: 17166848
Denis, G. V. (2008). Imatinib mesylate (Gleevec) and the emergence of chemotherapeutic drug-resistant mutations. In H. L. Kaufman, S. Wadler and K. H. Antman, Eds., Cancer Drug Discovery and Development; Specific Drugs for Molecular Targeting in Oncology, Part IV, Ch. 22. Humana Press; Totowa, NJ.
Longe, H., P. B. Romesser, A. Rankin, D. V. Faller, M. S. Eller, B. A. Gilchrest and G. V. Denis (2008). Telomere homolog oligonucleotides induce apoptosis in malignant but not in normal lymphoid cells: Mechanism and therapeutic potential. Int. J. Cancer. 124: in press. Epub 11/11/2008; PMID in progress.
Romesser, P. B., D. H. Perlman, V. N. Bhatia, M. E. McComb, D. V. Faller, C. E. Costello and G. V. Denis (2008). Development of a malignancy-specific proteome for non-Hodgkin's lymphoma. Am. J. Pathol., in revision.
Lab personnel:
Postdoctoral: Fangnian Wang, PhD & Wanda Blanton
Doctoral: Anna Belkina
Predoctoral: Paul B. Romesser
Research Associate: Hongsheng Liu
Boston University School of Medicine Links
Collaborators:
Department of Genetics and Genomics, Microarray Core Facility
Marc Lenburg
Mass Spectrometry Resource
Cathy Costello
Cardiovascular Proteomics Center
Mark McComb, David Perlman
Cores:
David Sherr, Matt Rarick, David Sherr, Matt Rarick, Yan Deng
Transgenic and Knockout Core Facility
Katya Ravid and Greg Martin 
Departments and Programs:
Department of Pharmacology and Experimental Therapeutics
Immunology Training Program
Graduate Program in Molecular Medicine