Fellowship Program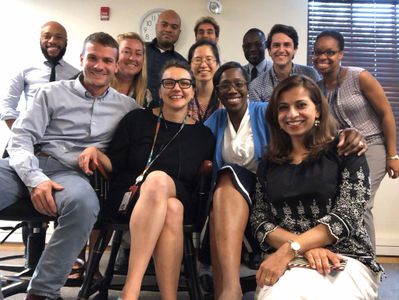 Goals of the Hematology and Oncology Fellowship Program
The overall goals of the Hematology and Oncology fellowship program are to provide an academically excellent, challenging and personally satisfying training experience for all Fellows.  The Facutly work close with Fellows to identify their future career path and maximize their ability to succeed in this path. Fellows learn to grow as expert and compassionate Hematologist and Oncologists, and are provided various opportunities to participate in first rate basic and applied science related to Hematology and Oncology.
The Hematology and Oncology Fellowship Program at Boston University School of Medicine is an ACGME accredited program currently recruiting 3 to 5 Fellows per year with a total number of 12-15 fellows in the program, for careers in Academic and Clinical Practice. The program offers a very diverse and rich clinical experience through its two major hospitals, the Boston Medical Center and the Boston Veterans Administration Medical Center. Fellows obtain extensive first hand experience in management of all types of cancer and blood disorders and benefit from a large, dedicated and accessible teaching faculty. There are three main Fellowship tracks from which Fellows can choose, including the standard Hematology and Oncology track, Hematology Research Track, and a Geriatric Oncology Track.
The Standard Hematology and Oncology track involves three years of training, of which approximately 21 months are devoted to clinical rotations and clinical electives. The remainder of the program the fellow has an option of either doing clinical or basic research depending on their choosen career path and interests. Fellows are expected to identify a research area and research mentor by the middle of the second year and the hope is that all Fellows will accomplish significant research, worthy of presentation at national or international meetings and publication. Fellows are encouraged to take course work and/or complete a Masters in Public Health if they are interested in pursuing a career in clinical research.
The Hematology Research Track involves a total of 4 years with more than two years dedicated to basic research. The clinical training is otherwise equivalent to that of Hematology and Oncology Fellows and fully prepares the Fellow for clinical practice. The goal of the research track is to provide sufficient time and educational support to achieve the ability to function as an independent investigator by the end of the training. Research Fellows can combine their training with graduate course work leading to a Ph.D. in Cancer Biology.
The Geriatric and Oncology track is one of the first and best developed training programs of its kind in the country. Fellows receive training in both Geriatrics and Oncology and can sit for boards in both disciplines at the end of three years. Some Fellows have opted to do an additional year in order to become board certified in Hematology as well. The program includes coursework leading to a Masters in Health Sciences and hopes to develop future leaders in this important, emerging field. Please visit the Geriatrics Department website for further information.
General Description of the Hematology and Oncology Service at Boston Medical Center
Clinical fellowship rotations at Boston Medical Center now combine experience in both Hematology and Oncology in the inpatient setting. Fellows are assigned to one to two month rotations on either the Hematology and Oncology Consult service, the inpatient Hematology and Oncology Ward Service, the Transplant Service or elective rotations. It is expected that Fellows will attend two to three outpatient clinic sessions per week throughout the first two years of the fellowship as well. During the third year of the Fellowship, attendance at one half day clinic session a week is required. Fellows frequently elect to do more clinics in specific areas of interest.
For detailed information on rotations at Boston Medical Center:
For detailed information on rotations while at the Boston VA Medical Center:
What we are looking for in Fellow Applicants & how to apply

Applicants who have shown good clinical skills and seem to be caring individuals and who have shown a high level of responsibility and concern for patients (including indigent patients and patients of different cultural backgrounds).
Applicants who are interested in careers in academic medicine based on interest in teaching and research (either clinical or basic). Applicants who would like to continue to work in an academic environment long term, particularly with specific interest in Basic Research in Hematology and some applicants desiring a career in Geriatric Oncology with a goal of becoming leaders in this new field.
The fellowship program is a member of the NRMP match system and applicants can rank the clinical Hematology and Oncology track online. Starting from 2015, Geriatric Oncology track is part of NRMP match system. If applicants are interested in the Geriatric Oncology Program, they should apply through ERAS and choose Geriatrci medicine fellowship and Geriatric Oncology track.
Our Hematology and Oncology Fellowship Mission is to
1. Provide well rounded clinical training in Hematology and Oncology with emphasis on developing ability to independently manage all stages of illness including initial diagnostic work up, intensive anti-cancer treatment, and palliative care;
2. Development of high level of professionalism and compassionate approach to patients of varied economic and social backgrounds;
3. Development of future academic leaders with areas of expertise dependent on goals of individual fellows and specific areas of strength in our institution including: Stem Cell Transplantation, Basic and Translational Research in Biology of Solid Tumors (e.g., breast and head and neck cancer, genetic basis of cancer) and Blood disorders (e.g., plasma cell dyscrasias, lymphomas, and hemoglobinopathies) and Immunology, clinical research and trial development in Hematology and Oncology, and research in epidemiology and treatment of cancer in the elderly, in underserved populations and veterans;
4. Development of excellent communication and teaching skills.
Applications should be submitted through the ERAS website starting on June 15, 2018 and will be accepted through August 15, 2018. Interviews will be conducted from September to October 2018.
To apply, please visit the ERAS online application website at: http://www.aamc.org/students/erasfellow/start.htm
The Application will require the following materials:
* Complete CV
* Personal Statement
* A minimum of three letters of Recommendation (one of which should be from the current Program Director of the program the applicant is enrolled in).
* Medical School Transcripts
* USMLE Board Score Reports
* ECFMG Certificate (if applicable)
* Recent Photograph
If you have any questions about our program or the application process please contact:
Brigitte Ruiz, Fellowship Program Coordinator 
Section of Hematology and Medical Oncology
Boston University Medical Center
Evans Biomedical Research Center, 4th Floor
Boston, MA 02118
p. 617.638.7009
f. 617.638.7530
e. brigitte.ruiz@bmc.org