Clinical Program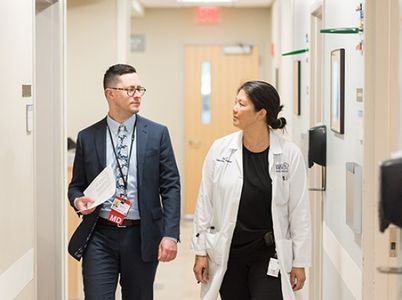 Clinical activity has grown considerably over the last several years in the section. Current outpatient activity is approximately 29,000 visits per year in our Center for Cancer and Blood Disorders, and we are growing by more than 10% each year.  We also operate a dedicated inpatient Hematology/Oncology unit with approximately 800 admissions per year to Boston Medical Center
Boston Medical Center is the Safety net hospital for patients from the Boston area, as well as being an academic medical center and tertiary care hospital for the region.  More than 40% of the patients who receive care at Boston Medical Center come from ethnically and culturally diverse communities and are often economically disadvantaged and have limited means to cope with serious illnesses.  The incidence of cancer in these populations is unusually high, and disease is typically advanced at the time of diagnosis. Understanding, design, and development of more effective cancer screening and treatment strategies for such patients, represent important programmatic and academic goals for the Section, as well as creative opportunities for academic program development.  We emphasize the role of clinical trials in providing for our patients, to the latest treatments.  The Cancer Clinical Trials Office is directed by Salli Fennessey, CCRP.  The Clinical Trials Office also coordinates patient support groups and other support services for our patients.
The Section is committed to providing exceptional care for all patients with cancer and blood diseases. A primary goal of our section is to develop focused, multi-disciplinary clinical and research programs of excellence that are relevant to our patients and to the particular strengths of BUMC and BVAHCS.
The adult sickle cell program is part of the Center for Excellence in Sickle Cell Disease, directed by Elizabeth Klings, M.D, which is the largest treatment center of its type in New England, caring for approximately 235 adults and 200 children and adolescents.  We provide: 1) multi-disciplinary outpatient treatment for our adults including the provision of outpatient treatment for uncomplicated vasoocclusive pain crises in the Hematology/Oncology clinic; and 2) Inpatient consultation for all patients with sickle cell disease admitted to the hospital.  We have partnered with physicians in General Internal Medicine, Family Medicine, Pulmonary and Critical Care, Orthopedic Surgery, and Emergency Medicine to provide the most comprehensive care for our patients.
The Stem Cell Transplant Program, directed by Vaishali Sanchorawala, MD, is internationally recognized as a leader in the treatment of AL amyloidosis.  In collaboration with the Amyloidosis Center, directed by Vaishali Sanchorawala, MD the Transplant Program provides a multidisciplinary team approach for patients undergoing high-dose chemotherapy followed by autologous peripheral blood stem cell transplantation.  The Program is accredited by the Foundation for the Accreditation of Cellular Therapy (FACT) and has been an approved transplant facility through the Southwest Oncology Group since 1996.  In addition to AL amyloidosis, appropriate patients with multiple myeloma, lymphoma, and leukemia are treated through the program.
Major changes in the conduct of Hematology and Oncology clinical activities by Boston VA Healthcare System–based Hematology and Oncology faculty result from the merger of the Jamaica Plain VAHCS and the West Roxbury VAHCS.  All BVAHCS Hematology and Oncology inpatient activities are conducted at the West Roxbury facility, while all ambulatory E&M and treatment visits have been at Jamaica Plain.  Together with Harvard Medical School-affiliated hematologist-oncologists, Hematology and Oncology faculty supervise inpatient and outpatient activities at both BVAHCS sites. Dr. Gary Gilbert is the Chief of Hematology and Oncology at the VA.