STRAP for GO Annotation
STRAP, the Software Tool for Rapid Annotation of Proteins, saves you time by automatically annotating a protein list with information that helps you meaningfully interpret your mass spectrometry data.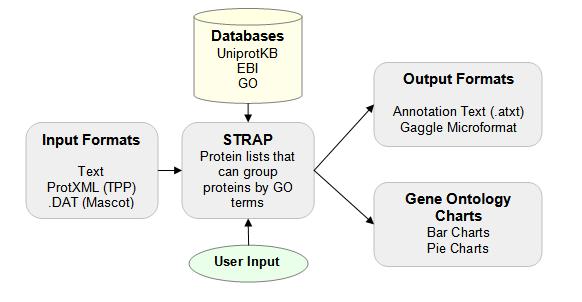 Downloads
You can download the program installer here. The STRAP installer comes with a tutorial to get you started. The C# source code for STRAP is available from our SourceForge project page.
Requirements
STRAP requires Windows XP or higher with at least version 3.5 of the Microsoft .NET Framework installed.
Input
STRAP takes protein lists as input, in the form of plain text files, protXML files (usually from the TPP), or Dat files from MASCOT search results.
Output
STRAP generates protein annotation tables, and a variety of GO charts to aid individual and differential analysis of proteomics data, as shown below. It downloads information from mainly the Uniprot and EBI QuickGO databases.
More Information
STRAP was presented at the 57th ASMS conference on Mass Spectrometry & Allied Topics (May 31-June 4, 2009) as poster number WPB 049. For more information on running STRAP, please refer to the paper or the tutorial that is packaged with the installer. For any other feedback or inquiries, please email Vivek Bhatia at cpctools@gmail.com.
STRAP is distributed in the hope that it will be useful, but WITHOUT ANY WARRANTY; without even the implied warranty of merchantability or fitness for a particular purpose.
How to Cite STRAP
Bhatia VN, Perlman DH, Costello CE, McComb ME. Software tool for researching annotations of proteins: open-source protein annotation software with data visualization. Analytical Chemistry 2009, 81 (23), 9819-23.
LINK