Sustainability Festival on Talbot Green Sept. 18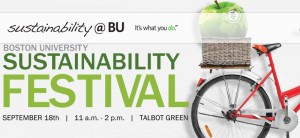 sustainability@BU is holding a festival on Wednesday, Sept. 18, 11 a.m.-2 p.m. on Talbot Green for BUMC students, faculty and staff.  Receive a free travel mug in exchange for pledging to participate in BU's sustainability effort Join the Challenge, a campus-wide campaign in which school and college teams compete for points by performing one sustainable action each month.
Learn about other sustainable products and environmentally friendly service providers including Office Depot's Greener Office,  and TranSComm, the hub for alternative transportation information for Medical Campus commuters.
"We want to educate the BUMC community about the sustainability opportunities available," says University sustainability director Dennis Carlberg. "People are thinking about what they can do to get involved, and this is a chance to do it, hopefully on a beautiful day."