GMS Welcomes Undergrad Summer Interns
Generating a burst of contagious energy, laughter and intellectual curiosity they arrived at the Division of Graduate Medical Sciences office on June 1. Johanna, Samanta, Vincent, Joshua, Jessica, Rachael, Maria, Carlos, Jordan, Derrius and Chinamere are undergraduate students from eleven different US colleges and universities. They are spending 10 weeks on the medical campus conducting biomedical research, participating in professional development seminars, attending "science talks" and enjoying the cultural and recreational opportunities in Boston.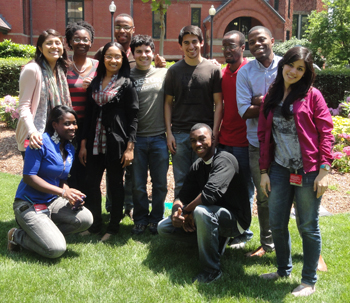 These eleven students were accepted into the Division of Graduate Medical SURP (Summer Undergraduate Research Program) based on a nationally generated pool of applicants. Applications were reviewed by a faculty admissions committee seeking academically talented students from backgrounds traditionally underrepresented in the biomedical sciences, and who were particularly motivated toward a career in research.
As part of the program, faculty and principal investigators from the basic science departments of GMS mentor these students providing guidance on their independent research projects. The summer program culminates with a student led symposium hosted by Associate Provost, Linda Hyman, PhD, on Friday, August 5. Faculty and research mentors for the 2011 summer program include: Drs. David Harris,  Vidhya Kumaresan,  Orian Shirihai,  Andrew Taylor,  Steven Borkan,  John Schwartz,  Ramon Bonegio, Caroline Genco,  Weining Lu,  Barbara Corkey,  Lisa Ganley-Leal,  Esther Bullitt and  James McKnight.
GMS summer interns are encouraged to explore their professional development skills by presenting their research at other undergraduate research conferences such as Advancing Hispanics/Chicanos & Native Americans in Science (SACNAS) and the Annual Biomedical Conference for Minority Students (ABRCMS). Please feel free to contact Linda Zimmerman or 617-638-5704 for more information about the program.