128 Master of Arts and Sciences Degrees Conferred at Graduate Medical Sciences Commencement
The Boston University Division of Graduate Medical Sciences celebrated the commencement of 128 members of the Division who earned the Master of Arts and Master of Sciences degree on May 20 at the George Sherman Union.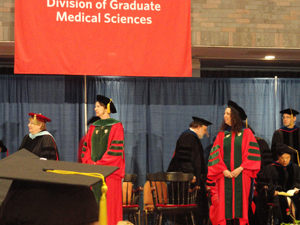 Representing 15 different departments and programs in the Division, the graduates are launched into careers including medical anthropology and cross-cultural practice, medical nutrition sciences, pathology and laboratory medicine, as well as mental health counseling and behavioral medicine and biomedical forensic science.
"Part of your job as graduate students has been to learn 'lots of things,'" said Linda Hyman, associate dean for the Division of Graduate Medical Sciences, to the graduates. "Your harder job has been to learn to think critically and independently.
"The notion of 'ownership of your ideas' is the basis of the thesis, which all of you have successfully completed. Yet as you move forward in your careers you will find that it is critically important to work as teams. In a recent career panel we hosted each of our distinguished guests cited the ability to work within a team as the number one skill they felt enhanced their career trajectory. So, even though you may take ownership and indeed be very proud of your independent work and thinking – remember you rarely work in isolation and you will be more effective in achieving your goals if you think beyond yourself."
Three student speakers selected by their peers addressed the gathering. Alexandra Wink offered advice gleaned from her forensic anthropology coursework. "Learn to adjust your strategy, "she said. "As anthropologists in the field, we make neat and organized plans for a systematic search and excavation effort, but the world is messy, and more often than not, human or environmental factors force us to reevaluate the scene and adapt to a situation that is far from our ideal. The same applies to our lives: What we have planned for ourselves isn't always what the future has in store for us."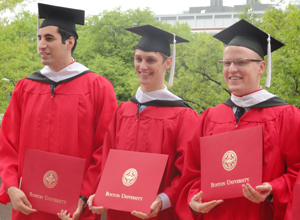 Master's in Medical Sciences candidate Gregory Fenton shared, "We should all be very proud of what we have accomplished up to this point, and whether or not we have met our goals, we should take a look at what we have gained from this experience, and take it with us. As for me, the best lesson that I learned here was to actually look for the lesson."
The Robert F. Troxler Award in Biochemistry, instituted in 2005 and named in memory of a legendary member of the biochemistry faculty at BUSM, was presented by Gwynneth Offner, PhD, director of the Master's in Medical Sciences program, to Flavien Leclere, and the Educator of the Year Award in Graduate Medical Sciences was presented to Judith Saide, PhD, associate professor of physiology and biophysics, for her excellence in teaching, mentoring and devotion to students.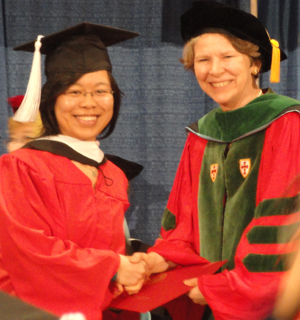 "We believe you are equipped with the proper skills and competencies," said BUSM Dean Karen Antman. "The habits and dispositions, the methodologies, and the technical skills of physicians and research scientists are the toolkit. If we do our jobs well in great centers of research and inquiry, the toolkit will soon need refreshment and renewal. Call it planned obsolescence. We believe we helped to give you the most important tool of all–the capacity for continued, disciplined inquiry."
Submitted by Mary Hopkins