BUSM's 164th Commencement Celebrates Achievement
Boston University's Agganis Arena is the scene of many proud moments in the lives of BU students, faculty, and staff. There could be no more satisfying and rewarding event for the Boston University School of Medicine (BUSM) Class of 2011 and their families than the medical school commencement ceremony held there May 21.
"I speak for my colleagues in saying that it has been a great privilege to work with you," said BUSM Dean Karen Antman, MD. "We know you are resilient and adaptive, smart and serious. We hope you find fulfillment in the work that you have chosen and that the occasional bumps and diversions prove, with time, to be instructive. The faculty hopes you do well. Even more, we hope that you do good."
The vibrant red of the academic robes of the 158 medical degree and 44 doctor of philosophy graduates coupled with the green (for medicine) and blue (for science) hoods received by each graduate only added to the celebratory nature of the ceremony. "With or without the colorful robes and the elegant diplomas, it is entirely fitting that before friends, family, and the broader community, we affirm that graduates have met standards that make them worthy of their credentials and of the public trust," added Antman.
Linda Hyman, PhD, associate dean for graduate medical sciences and professor of microbiology, speaking on behalf of the Division of Graduate Medical Sciences offered, "The pomp and circumstance that we share this morning reminds us of the seriousness of your accomplishments and that the degree is a ticket to the next phase of your life, and this is indeed serious business.
"Docendo discimus," continued Hyman. 'By teaching we learn.' I honestly believe there is no better way to learn than to teach. As students you have challenged us to think about we what do as scholars and professionals and hopefully to relay that information to you in a palatable fashion."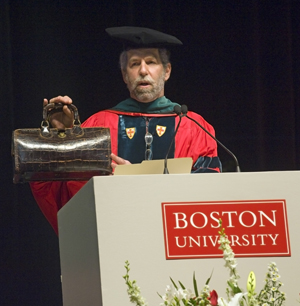 Graduation speaker Steven Borkan, MD, displayed his old doctor bag filled with symbols of important events and people in his life that help him remember — a pacifier and forceps that reminded him of his childhood family doctor who saved the life a new-born baby neighbor and inspired him to become a physician; and a toy rocket that recalled the time he asked not how high the rocket had flown as did the other children, but why and how the rocket was able to fly.
An associate professor of medicine at BUSM and the Robert Dawes Evans Educator and attending physician in the Department of Medicine at Boston Medical Center, Borkan had a newly minted , never been used 25- cent piece placed on each graduate's seat as a symbol of the event.
He urged the graduates to always probe and listen. "Think and say, 'that's odd' to remind yourself to question and 'take a seat' to remember to really listen to your colleagues and your patients." Borkan also asked of the graduates, "Put your hand on your heart and take 10 seconds of silence to think of those you love and who have helped you get to this point,"
Three Educator of the Year awards, established to honor outstanding BUSM faculty, were presented during the ceremony. Based on student nominations, the 2011 awards for graduate sciences went to Judith Saide, PhD, associate professor of physiology and biophysics; for preclinical sciences to Deborah W. Vaughan, PhD, professor of anatomy and neurobiology; and for clinical sciences to Melissa Dipetrillo, MD, assistant professor of general internal medicine.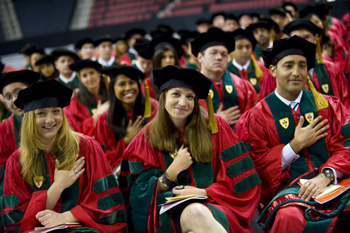 Steve R. Williams, MD and Philipa G. Sprinz, MD, were the recipients of The Leonard Tow Humanism in Medicine awards in recognition of their outstanding compassion in the delivery of care, respect for patients, their families, and health-care colleagues, as well as demonstrated clinical excellence. One student nomination noted that Williams, a spinal chord injury specialist and associate professor and chair of rehabilitative medicine at BUSM, "has taught the greatest lesson of them all: how to provide hope in the face of adversity."
Sprinz, an assistant professor of pediatrics at BUSM, was described by another student as having, "innate gifts for communication, empathy, mutual respect and constant teaching that were reflected in every interaction I witnessed whether it was with medical students, members of the interdisciplinary team, patients, or their families."
The School of Medicine's highest teaching award, The Stanley L. Robbins Award for Excellence in Teaching, was presented to Carl J. O'Hara, MD, professor of pathology and laboratory medicine for his extraordinary contributions to medical education at Boston University.
"We love a challenge," said Eustathia Giannaris, student speaker and PhD candidate in neurobiology, of her and her classmates. "We question everything around us and want answers. We want to have a deeper understanding of how things work. We want to improve the quality of life. Most of all, we do it for the greater good."