GSDM Honors Graduates at 46th Annual Commencement
On Friday, May 14, Boston University Henry M. Goldman School of Dental Medicine (GSDM) honored new graduates at the School's 46th commencement held at the Track & Tennis Center. The late afternoon ceremony had 188 DMD and 72 postdoctoral student participants.
Dean Jeffrey W. Hutter began the ceremony by welcoming the graduating students, family and friends, and faculty and staff adding, "It is indeed a special honor for me to address you, the Class of 2010, this afternoon. I have watched you and your classmates grow into confident, competent dental professionals and I am delighted to share this special occasion with you as you receive your Doctor of Science, Doctor of Science in Dentistry, Master of Science, Master of Science in Dentistry, and Doctor of Dental Medicine degrees, as well as your Certificates of Advanced Graduate Study. You should feel proud to be a member of such a prestigious graduating class."
Valedictorian Mark Hamanishi DMD 10 took on a lighter tone with his address that provided a comedic tour through four years of Dental School. Hamanishi also encouraged his classmates to remember their BU roots no matter where their careers may take them. He said, "Remember that BU gave us the opportunity to get to where we are today. I am proud to be a graduate of this Dental School and grateful to have been influenced by such amazing faculty and staff and I know this sentiment is shared by many of you as well."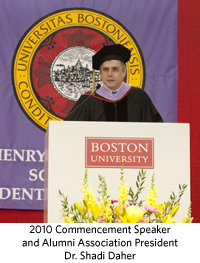 Alumni Association President Shadi Daher DMD 90, OMFS 94 served as this year's commencement speaker and gave a moving speech describing some of the lessons he learned while training to be an oral surgeon, in private practice, and through his volunteer work. He also welcomed the graduates to the ranks of the Alumni Association and added, "Today is one of the biggest milestones of your lives, and you know that you have earned every bit of it. Let everything in this day be a testament and a tribute to your achievement. Let the smiles that surround you today and the hope that fills your heart this hour always be an emotional capital to draw from."
The Spencer N. Frankl Award for Excellence in Teaching was presented during the ceremony and this year there were two recipients. The first was Clinical Professor of General Dentistry & Director of Predoctoral Removable Prosthodontics Dr. Ronni A. Schnell.
"Over the years Dr. Schnell has served on more committees and task forces at our School than I can honestly recount," said Dean Hutter. "She currently leads our efforts to develop an electronic patient treatment record and serves on the Applied Strategic Planning Committee among many other contributions. Today we honor her with the Spencer N. Frankl Award for Excellence in Teaching. She truly personifies this award."
The second recipient was Professor of Pharmacology and Experimental Therapeutics at Boston University School of Medicine Dr. Carol T. Walsh. Dean Hutter added, "Dr. Walsh is a dedicated and outstanding teacher, with a genuine passion for her profession. Her Dental Pharmacology course is highly regarded and she brings years of experience, energy, and enthusiasm to her role as an educator. She is consistently rated as being an "exemplary" instructor by our pre-doctoral dental students."
For the first time in Dental School history a class gift was also announced at the commencement ceremony and presented by DMD 10 Class President Gary Nord.
"Dentistry is an ever changing science and the future change depends upon us," said Dr. Nord. "We have to give back. We have to give back to our families, to our communities, and to our School." Dr. Nord continued, "In the spirit of this, the class of 2010, my class, has decided to make the first class gift in honor of our School, recognizing the amazing gift that the School has given us: the ability to practice dentistry. I, as the class president, am honored to present Dean Hutter, with this check to the DMD annual fund, as a statement of our commitment to our School, and helping it to move forward into the future."
Dean Hutter brought the ceremony to close with a few final thoughts. He said, "Cherish your education and your profession and measure success not by the amount of money you earn, but rather by the contribution you make to your family, your profession, your patients, and your community. On behalf of the entire Boston University Henry M. Goldman School of Dental Medicine family, my wife Kathy and I sincerely wish you the best of success, health, and happiness. Thank you very much for allowing the Henry M. Goldman School of Dental Medicine to be a part of your lives."