A Call to Serve: BU Inaugural Global Day of Service arrives in April
In the spirit of Lemuel Murlin, the BU president who in the early 1900s envisioned a university "in the heart of the city, in the service of the city," the BU Alumni Association is sponsoring its first Global Day of Service, giving alumni and others the chance to reach out to their communities, in unison, wherever they may be.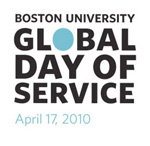 The Alumni Association, along with the BU Community Service Center, is organizing community service sites across the country and around the globe where alumni can volunteer in honor of BU, on Saturday, April 17. The Global Day of Service is open to anyone connected to BU.
"The Day of Service is going to engage alumni and so many others — parents, students, faculty, and staff — in service projects that are meaningful and rewarding," says Meg Umlas, executive director of alumni relations.
There will be at least 50 sites in the United States and abroad, including Madrid, London, Shanghai, Brussels, Sydney, and São Paolo. Service can be as simple as cleaning up a neighborhood park or helping out in a local road race, Umlas says, but it can also be focused on graduates' area of expertise.
"Many alumni boards are interested in serving areas that reflect their constituency," she says. "For example, School of Hospitality Administration alumni have expressed interest in working in soup kitchens. School of Medicine students are considering providing free care. There are School of Law alumni interested in doing pro bono work."
If volunteers aren't available on that Saturday, the Alumni Association is encouraging service in the days before and after April 17, says Kelly Cunningham, director of alumni communications and new media. "We want to make this opportunity available to everyone; to constrain it to only one day would exclude service, although we are pushing April 17 as the unifying day."
She adds that those who can't find a BU site near them can get a smaller group together to volunteer. "If you live in Topeka, Kans., and no one else is signed up to serve, you can go on your own to a local site," Cunningham says. "This is a chance to mobilize our community on behalf of those who really need it."
Umlas hopes the day of service will benefit participating alumni as well as communities. "We hope they get a opportunity to contribute to a local community and connect with fellow alumni," she says. "We also hope they feel good about doing something in honor of BU.
"This will be a milestone event and the start of a wonderful new tradition."
More information for BUSM students is available at http://www.bumc.bu.edu/medalumni/events/global-day-of-service/.  BUSPH students can learn more at http://sph.bu.edu/index.php?option=com_insidernews&articleid=2670&task=view&id=623&Itemid=366
This BU Today article was written by Brittany Rehmer(COM '11).