Grand Rounds Presentation Leads to Engaging Discussion
Fourth-year DMD student Komail Abbas presented the second grand rounds of the 2009-2010 school year, based on a treatment plan he developed for a patient he treated during his externship rotation at Dorchester House from July 27 to October 2. Abbas' externship preceptor was Dr. Thomas Ricci.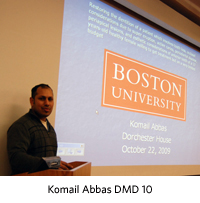 Abbas' patient was a 37-year old Cape Verdean woman who had not been to the dentist in about five years. Her chief complaint was that her lower front teeth had been loose for more than one year. The patient had a limited budget, but was willing to invest the time to have the necessary dental procedures. A language barrier almost created an issue, since the patient's native language was Portuguese; however, Abbas and the patient shared a common second language of Spanish. With the additional help of a translator, they were able to easily discuss her oral health history and prognosis.
Abbas diagnosed the patient with caries, periodontitis, occlusal trauma, periapical granluloma, and also recommended extraction of several teeth. His ideal treatment plan for this patient consisted of several phases and after each phase he recommended re-evaluating the treatment plan and its current success or failure in order to provide the patient with the best and most appropriate treatment possible. Abbas discussed the pros and cons of three means of treatment to correct the patient's most pressing issues including implants, removable partial dentures, or fixed partial dentures.
Dr. Carl McManama congratulated Abbas on his impressive presentation, summarizing the findings and posing some questions to engage the audience. Dean Jeffrey Hutter, students, faculty and staff shared many different ideas and questions with each other creating an intriguing discussion.
"Komail's presentation was excellent," said Dean Hutter. "He carefully considered the patient's needs when designing his ideal treatment plan and suggested thoughtful alternatives to each phase of the plan. It was also evident that everyone in attendance, including Komail, learned something from the wide variety of insight and opinions shared during the discussion portion of the presentation."