Dr. Aparicio Receives Spivack 2022 Neuroscience Pilot Award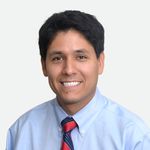 Hugo J. Aparicio, MD, MPH, assistant professor of neurology, is the 2022 recipient of the Jack Spivack Neurosciences Pilot Award.
Dr. Aparicio will work with investigators from the Slone Epidemiology Center's Black Women's Health Study and his colleagues in the Department of Neurology to understand the role of hypertension diagnosed in 10- to 30-year-olds in the risk of stroke and heart attack in 45- to 65-year-olds, causing mortality and long-term morbidity. The pilot funds will support medical record reviews and data analysis to refine and quantitate hypertension data, stroke subtypes, cognitive dysfunction and other brain health outcomes.
Congratulations!