Dr. Alosco Receives Spivack 2021 Emerging Leader in Neuroscience Award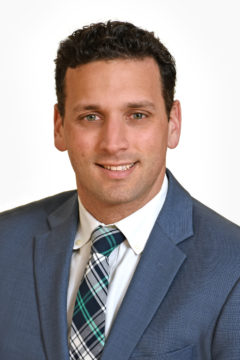 Michael Alosco, PhD is the recipient of the prestigious Spivack 2021 Emerging Leader in Neuroscience Award. Mr. Spivack established these awards in 2013 to recognize and support the research of outstanding BUSM faculty conducting either clinical or basic research in Parkinson's (PD), Alzheimer's (AD), Chronic Traumatic Encephalopathy (CTE) and other neurological disorders.
Dr. Alosco is a licensed clinical neuropsychologist. He completed his undergraduate studies at Providence College and he earned his doctoral degree in clinical psychology, with a focus on neuropsychology, in 2015 from Kent State University. He completed his clinical internship in neuropsychology at the VA Boston Healthcare System. Dr. Alosco completed his post-doctoral studies in neuropsychology via NIH-funded training Awards (T32, F32) at the Boston University Alzheimer's Disease Research Center and CTE Center. In 2018, he became an Assistant Professor of Neurology at the Boston University School of Medicine and he was promoted to Associate Professor in 2019. Dr. Alosco has >140 peer-reviewed publications, is the recipient of an NIH/NINDS K23 Award, is the Project Lead of an NIH-funded multisite U54 grant, and serves as a PI and/or co-investigator on numerous federal and non-federal funded grants. Dr. Alosco is a lead investigator of the BU CTE Center.
Congratulations!