Dr. Mez Promoted to Associate Professor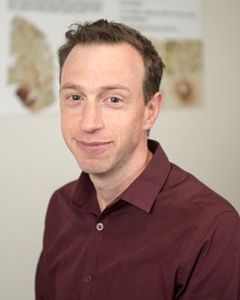 Jesse B. Mez, MD, MS has been promoted to the rank of Associate Professor at Boston University School of Medicine. 
Dr. Mez completed his undergraduate studies at Cornell University and earned his medical degree from the University of Maryland School of Medicine. He completed residency training in Neurology at Massachusetts General and Brigham and Women's Hospitals. He completed a clinical fellowship in Aging and Dementia and a research fellowship in Neuroepidemiology at Columbia University. During fellowship training, he also earned a Masters in Biostatistics with a focus on Statistical Genetics from the Mailman School of Public Health at Columbia. He is a member of the BU Alzheimer's Center and CTE Center. He is an associate editor for the Journal of Alzheimer's Disease. He cares for patients with memory and other cognitive and behavioral disorders.
Dr. Mez's research focuses on the application of statistical genetics and genetic epidemiology to various forms of dementia. He is particularly interested in the role of genetic and non-genetic factors in atypical clinical presentations of Alzheimer's disease. He also is interested in how the interaction of genetic risk factors and trauma influence dementia risk.
Dr. Mez has been an outstanding and productive member of our department for many years, and this promotion is very well deserved.
Congratulations Dr. Mez!