Dr. Alosco Promoted to Associate Professor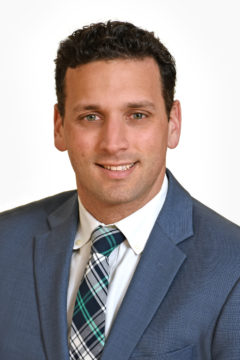 Michael Alosco, PhD has been promoted to the rank of Associate Professor at Boston University School of Medicine. 
Dr. Alosco completed his undergraduate studies at Providence College and he earned his doctoral degree in clinical psychology, with a focus in neuropsychology, in 2015 from Kent State University. He completed his clinical internship in neuropsychology at the VA Boston Healthcare System. In 2015, Dr. Alosco was awarded a post-doctoral fellowship at the Boston University (BU) Alzheimer's Disease (AD) Center (ADC) and BU CTE Center through the NIA-funded Alzheimer's Disease Translational Research Training Program (T32AG036697). In 2016, Dr. Alosco transitioned to a National Research Service Award (NRSA) F32 from the National Institute of Neurological Disorders and Stroke to continue his advanced clinical research training at the BU ADC and BU CTE Center.
Dr. Alosco's research focuses on risk factors and biomarkers of neurodegenerative conditions, with a focus on AD and CTE. Dr. Alosco is particularly interested in the contribution of cerebrovascular disease to the clinical and neuropathological presentation of AD and CTE. He is additionally involved in research examining the relationship between exposure to repetitive head impacts and long-term neurological consequences.
Dr. Alosco was the recipient of the American Psychological Association Early Graduate Student Research Award in 2012. He received the Kent State University David B. Smith Award in 2014, an award that provides recognition for the most outstanding graduate student at Kent State University. He also received a 2016-2017 BU ADC Pilot Grant. He has authored more than 100 peer-reviewed publications and book chapters, and is the co-editor of the Oxford Handbook of Adult Cognitive Disorders. He is a member of the American Psychological Association and Massachusetts Neuropsychological Society.
Congratulations, Dr. Alosco!