Shoumita Dasgupta, Ph.D.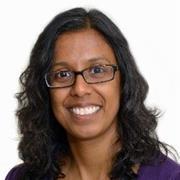 Shoumita Dasgupta, Ph.D.
Professor of Medicine
Department of Medicine, Biomedical Genetics Section
Assistant Dean of Admissions
Director of Graduate Studies, Genetics and Genomics
President, Association of Professors of Human and Medical Genetics (
aphmg.org
)
Fulbright Specialist

Education
Ph.D. University of California, San Francisco
M.S. University of California, San Francisco
B.S. Massachusetts Institute of Technology
Awards
U.S. Department of State and the J. William Fulbright Foreign Scholarship Board, Fulbright Specialist Award, 2020 
Boston University School of Medicine, Department of Medicine, Robert Dawson Evans Special Recognition Teaching Award, 2014
Boston University School of Medicine, BUMC Pride Award for Excellence in Equality, 2014
Boston University School of Medicine, Stanley L. Robbins Award for Excellence in Teaching, 2013
---
Scholarly Interests
Our understanding of the genome and the influence of genetic mechanisms on human health and disease has grown exponentially in the past decade. Advances in technology have enabled the development of genomic tools that are transforming not only the science of genetics, but also the delivery of healthcare in an era of genomic medicine. After the completion of the Human Genome Project, the field of genetics and genomics has continued to make astonishing advances both in terms of scientific developments, such as the HapMap project and the ENCODE project, and technologies, such as Next Generation DNA Sequencing, genome editing tools, and computational approaches for genome-wide analysis. Each of these developments has already had far-reaching consequences because of the explosion of scientific inquiry they both allowed and inspired. To train future scientists and physicians who are prepared to practice in the age of genomics, we need to teach our students the basic principles of genetics and genomics as well as their translational applications to various areas of clinical medicine. Towards this end, Professor Dasgupta's focus has been on education in this rapidly evolving discipline and mentoring within a diverse learning environment.
---
Graduate Education
Professor Dasgupta is the founding Director of the Graduate Program in Genetics and Genomics. The aim of the Ph.D. program is to teach our students critical thinking skills that will allow them to apply the approaches of genetics and genomics to investigations in the biomedical sciences. We want our students to be adept at utilizing hypothesis-driven methods as well as discovery-oriented experimental design styles to explore these biological problems. Furthermore, we aim to bridge the disciplines of experimental biosciences with computational and genomic approaches. Students begin their studies in genetics and genomics in a series of interdisciplinary modular courses called the Foundations in Biomedical Sciences (FiBS) modules. Professor Dasgupta co-directs this core doctoral curriculum as well as the Structure and Function of the Genome FiBS module. In addition to fostering the scientific growth of our students, it is our goal to train students to function as active members of the scientific community who can clearly communicate ideas, critically evaluate biomedical research, and mentor others in scientific scholarship.
---
Medical Education
The impressive advances in genetics and genomics described above also have had important impact on the practice of clinical medicine, including the development of direct-to-consumer personal genomic testing and the use of whole exome sequencing in the clinic. In the required Genomic Medicine course she teaches to first year medical students at Boston University, Professor Dasgupta helps students consider how these rapid advances can be utilized appropriately in a clinical environment as well as what ethical, legal, and societal implications all of these developments hold. Preparing future physicians to responsibly practice genomic medicine has also been a focus of Professor Dasgupta's in her work with the Association of Professors of Human and Medical Genetics. She is also a member of the leadership team for the Principles Integrating Science and Medicine (PrISM) curriculum for first year Boston University medical students.
---
Cultural Competency
In addition to her roles in Boston University educational programs, Professor Dasgupta has presented and published in national and international venues on innovative teaching approaches in genetics and on cultural competency education through the basic science curriculum. In her cultural competency initiatives, these critical concepts are introduced in the context of the relevant basic science that, when misunderstood, can contribute to health care disparities that emerge in the clinic. Specifically, her ongoing projects aim to raise the level of scientific discussion in the classroom on the complex relationship between genetics and race, to introduce students to genetic issues of importance to the LGBT community, and to explore the influence of future providers' personal values and biases on potential clinical decision-making by patients.
Professor Dasgupta also serves as an Assistant Dean of Admissions and enjoys having the opportunity to work with students from their interview day to their graduation day and beyond.
---

Selected Publications
Green, K.-A., Wolinsky, R., Parnell, S. J., del Campo, D., Nathan, A. S., Garg, P. S., Kaplan, S. E., & Dasgupta, S. (2021). Deconstructing racism, hierarchy, and power in medical education. Academic Medicine, Publish Ahead of Print.

https://doi.org/10.1097/acm.0000000000004531

Dasgupta S. An Anti-Racism Toolkit for the Genetics Educator. Genet Med. 2020 Aug 13. PMID: 

32788666

K Hyland, K Garber, and S Dasgupta (2019) From Helices to Health: Undergraduate Medical Education in Genetics and Genomics. Personalized Medicine. https://doi.org/10.2217/pme-2018-0081. 
MA Campion, C Goldgar, RJ Hopkin, CA Prows, and S Dasgupta (2019) Genomic Education for the Next Generation of Healthcare Providers. Genetics in Medicine. https://doi.org/10.1038/s41436-019-0548-4.
H-Y Park, O Berkowitz, K Symes, and S Dasgupta (2018) The Art and Science of Selecting Graduate Students in the Biomedical Sciences: Performance in Doctoral Study of the Foundational Sciences. PLOS ONE. doi: 10.1371/journal.pone.0193901.
Niederhoffer EC, Cline SD, Osheroff N, Simmons JM, Diekman AB, Franklin DS, Abali EE, Bateman RC, Fontes JD, Lindsley JE, Pearson D, Rubenstein PA, Slaughter CA, Bernstein JA, Hyland KM, Park VM, Sobering AK, Weiler TA, Dasgupta S. Teaching Biochemistry and Genetics to Students of Dentistry, Medicine, and Pharmacy 6th International Conference of the Association of Biochemistry Educators (ABE) Clearwater Beach, FL, USA, May 7-11, 2017. Med Sci Educ. 2017 Dec; 27(4):855-859. PMID: 29291139.Read at: PubMed
Hyland K, Dasgupta S. Medical genetics and genomics education and its impact on genomic literacy of the clinical workforce. Genet Med. 2017 Sep 14. PMID: 28914266.Read at: PubMed
Jin H and Dasgupta S. Genetics in LGB Assisted Reproduction: Two Flipped Classroom, Progressive Disclosure Cases. MedEdPORTAL Publications. 2017; (13):10607.Read at: Custom
Dasgupta S. Medical genetics ethics case collection: discussion materials for medical students in the genomic era. MedEdPORTAL Publications. 2017; (13):10562.Read at: Custom
Mundluru SN, Therkelsen KE, Verscaj CP, Dasgupta S. Conflicts Between Non-Directive Counseling and Unbiased Patient Care: the Influence of Medical Students' Personal Beliefs on Proposed Huntington's Disease Genetic Testing Recommendations. Medical Science Educator. 2016.Read at: Custom
Jin H, Dasgupta S. Disparities between online assisted reproduction patient education for same-sex and heterosexual couples. Hum Reprod. 2016 Oct; 31(10):2280-4. PMID: 27530417.Read at: PubMed
Dasgupta S. Common Threads: Reflective Practice Connecting Medical Genetics Concepts Across and Integrated Curriculum. Medical Science Educator. 2016. Read at: Custom
Garber KB, Hyland KM, Dasgupta S. Participatory Genomic Testing as an Educational Experience. Trends Genet. 2016 Jun; 32(6):317-20. PMID: 27117243. Read at: PubMed
Dasgupta S. Differential Acceptance of Genomic Medicine Approaches Between Future and Practicing Physicians. Medical Science Educator. 2015. Read at: Custom