Allergy
Clinical Centers
---
Mission Statement:
The Allergic Disease program at Boston Medical Center provides multidisciplinary diagnostic evaluations and tailored therapeutic plans for patients with allergic and nonallergic rhinitis, food and drug allergy, atopic dermatitis, urticaria, angioedema, anaphylaxis and immunodeficiency. Our mission is to improve the lives of patients living with allergies by providing state-of-the-art patient care, to provide a resource for referring physicians, to study outcomes of allergen reduction interventions and to educate trainees in Allergy and Immunology.
Background:
The staff includes four physicians who are certified by the American Board of Allergy and Immunology and a nurse practitioner who specializes in Allergy, Asthma and Immunology. The team also includes physicians who specialize in asthma care and three nurses who are trained to provide allergen avoidance education, perform allergy skin testing and administer allergy immunotherapy and anti-IgE therapy (Xolair). Both Dr. Center and Dr. Hollingsworth have been listed in Boston Consumers' Checkbook and in Best Doctors in America.
The clinic has a Puritan Bennett Renaissance spirometer for monitoring asthma in clinic. In addition, the Pulmonary Function Laboratory is readily available for more in depth studies, including methacholine inhalation challenges.
Clinical Activities:
Patients have an initial meeting with an allergy specialist to review their medical history, results of previous allergy testing, if any, and physical examination. Further testing frequently includes allergy skin testing, blood tests, rhinolaryngoscopy and sinus computed tomography.
Diagnosis and management of seasonal and perennial nasal and ocular symptoms due to allergies, nasal polyps, vasomotor rhinitis, and chronic sinusitis.

Inhalant allergen skin testing
Specific immunotherapy (SIT – 'allergy shots')
Sinus computed tomography
Rhinopharyngolaryngoscopy

Evaluation and treatment of patients with stinging insect (Hymenoptera) venom anaphylaxis

Venom skin testing
Venom RAST testing
Venom specific immunotherapy

Evaluation and treatment of drug, food and idiopathic anaphylaxis as well as hereditary angioedema

RAST (blood) testing for food allergy
Skin testing to certain medications, as indicated
Drug desensitization (including aspirin for aspirin-exacerbated respiratory disease (AERD)): usually inpatient
Evaluation of complement dysfunction-mediated angioedema
Our inpatient Allergy/Immunology Consult Service provides consultative services for inpatients with specific allergic problems that require more immediate attention.

Evaluation and treatment of chronic urticaria and angioedema
Evaluation and treatment of primary immunodeficiency
Evaluation of allergic asthma triggers
Treatment with anti-IgE (omalizumab (Xolair))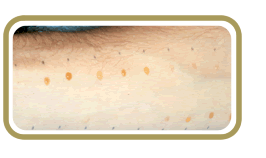 Our inpatient Allergy/Immunology Consult Service provides consultative services for inpatients with specific allergic problems that require more immediate attention.
Research Activities:
See research section on Asthma, Allergy and Immunology.
Personnel:
David M. Center, MD, Professor of Medicine and Section Chief, Pulmonary Allergy and Critical Care
John Bernardo, MD, Professor of Medicine
Helen Hollingsworth, MD, Associate Professor of Medicine
Frederic F. Little, MD Assistant Professor of Medicine
George O'Connor, MD Professor of Medicine and Director of the Adult Asthma Clinic at Boston Medical Center
Jussi Saukkonen, Associate Professor of Medicine
Claire Murphy, RNP
Selected Publications:
Little FF and Hollingsworth HM. "Anaphylaxis." In: Intensive Care Medicine. Irwin RS and Rippe JM, eds. Philadelphia: Lippincott Williams & Wilkins, 2008.
Little, F.F. Treating acute asthma with antibiotics – Not quite yet. New England Journal of Medicine 354, 1632-1634, 2006.
Little FF, De Bie J, Van Oosterhout A, Kornfeld H, Center DM, Cruikshank WW. Immunomodulatory effects of Interleukin-16 on allergic airway inflammation. Chest (Supplement) 123:431S-2, 2003.
Crain EF, Walter M, O'Connor GT, Mitchell H, Gruchalla RS, Kattan M, Malindzak GS, Enright P, Evans R, Morgan W, Stout J. Home and allergic characteristics of children with asthma in seven US urban communities and design of an environmental intervention: The Inner-City Asthma Study. Environmental Health Perspectives 110: 939-945, 2002.
Vojta PJ, Randels SP, Stout J, Muilenberg M, Burge HA, Lynn H, Mitchell H, O'Connor GT, Zeldin DC. Effects of physical interventions on house dust mite allergen levels in carpet, bed, and upholstery dust in low-income, urban homes. Environ Health Perspect 109: 815-819, 2001.
Kitch BT, Chew G, Burge HA, Muilenberg ML, Weiss ST, Platts-Mills TAE, O'Connor G, Gold DR. Socioeconomic predictors of high allergen levels in homes in the greater Boston area. Environmental Health Perspectives 108: 301-307, 2000.
Links:
Research:
For patients:
For Patients:
To schedule a clinic visit, refer a patient, or speak with one of our physicians, please contact us at:
Doctors Office Building
Pulmonary/Allergy/Asthma
720 Harrison Avenue, 4th Floor, Suite 402
Boston, MA 02118
617-638-7480