News
2015
Improving Sleep Can Aid Recovery of Veterans with PTSD and TBI.
Sleep disturbance is a primary symptom of both Post-Traumatic Stress Disorder (PTSD) and Traumatic Brain Injury (TBI) and has been found to affect the severity of both conditions.  More
PTSD, TBI, and sleep problems significantly affect functional status and quality of life in veterans returning from combat.
Sleep difficulty is a primary symptom of both PTSD and TBI and has been found to affect the severity of both conditions.  More
Poor sleep may impact treatment and recovery in veterans with PTSD, TBI.
Understanding sleep problems and their role in the development and maintenance of PTSD and TBI symptoms may lead to improvement in overall treatment outcomes… More 
2014
BUSM/VA Research Team to Study Effectiveness of LED Helmets for Treating TBI and PTSD. This clinical trial will utilize cutting-edge technology (LED) to treat cognitive and neuropsychiatric symptoms in returning veterans with TBI and PTSD.
April 2013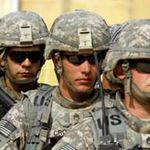 The paper entitled "Cognitive Sequelae of Blast-Induced TBI: Recovery and Rehabilitation" received international coverage. The publication was featured in the "Key Research Articles" edition of Psychology Progress series as a "significant contributor to the Psychology field". Psychology Progress is an international organization providing information on the latest and most significant research in Psychology, selected by the team of experts from the top academic institutions and Psychiatric field.
October 2012
Our research on recovery and cognitive rehabilitation of blast-induced traumatic brain injury was featured in October issue of "Neurology Today", an official publication of American Academy of Neurology. The article entitled "Military Expands Brain Injury Blast Detector Pilot to More Troops" describes the Blast Gauge, an experimental device that helps measure the form and extent of blast wave exposure and injury, and highlights the challenges of recovery from deployment-related TBI.
February 2012

A review of research on cognitive rehabilitation for veterans suffering from blast-related TBI and PTSD, entitled "Cognitive Sequelae of Blast-Induced Traumatic Brain Injury: Recovery and Rehabilitation" has received recent media coverage following its publication in the latest issue of the Neuropsychology Review, 21(4). In February, the Boston University School of Medicine highlighted the findings on their news site.

February 2012

Our paper "Cognitive Sequelae of Blast-Induced Traumatic Brain Injury: Recovery and Rehabilitation" was featured in February issue of The Centre for Military and Veterans' Health (CMVH) on the latest International Military Health Literature.  CMVH is a collaboration of the University of Queensland, the University of Adelaide and Charles Darwin University, and Australian Defense Force and Centres of Excellence, which brings together a multi-disciplinary team of specialists, military and civilian health researchers.
December 2011
European Parkinson's Disease Association (EPDA) featured the research paper by Bogdanova and Cronin-Golomb entitled "Neurocognitive correlates of apathy and anxiety in Parkinson disease" in December issue "Rewrite Tomorrow".  As a voice for Parkinson's in Europe, the EPDA actively works to provide evidence based information to support the best practices and treatments, and highlights research from around the world in relation to the disease symptoms, mechanisms and treatment that can improve the lives of people with Parkinson's disease.