Cataldo Leone Appointed Dean ad interim, GSDM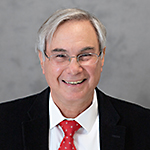 Cataldo Leone, DMD, has been appointed Dean ad interim of the Henry M. Goldman School of Dental Medicine (GSDM), effective April 1, 2021, while a national search is conducted to replace Dean Jeffrey Hutter, who has announced his retirement effective March 31, 2021.
Dr. Leone earned his DMD from the University of Pittsburgh School of Dental Medicine in 1983 and then completed a Certificate of Advanced Graduate Studies in Periodontology in 1987 and a Doctor of Medical Sciences in Oral Biology in 1989 at Harvard University. He served as an assistant professor of periodontology at the University of Florida from 1989 to 1993, and then as an associate professor of periodontology and director of the postdoctoral periodontology residency program at Tufts University. He joined GSDM in 1999 as an associate professor of periodontology and oral biology and was promoted to professor in 2006.
Dr. Leone's research interests include basic science investigations in proteoglycan structure-function, salivary proteins and immune mechanisms in periodontal disease, as well as educational methodologies and curriculum design. He directs several pre- and postdoctoral courses.
Dr. Leone was appointed assistant dean for academic affairs in 2007 and associate dean in 2008. Nationally, Dr. Leone has served as an accreditation site visitor since 2014 and on the Joint Commission on National Dental Examinations, serving as vice-chair and chair from 2018-2020, implementing two new examinations: the Integrated National Dental Board Exam and the Dental Licensing Objective Structured Clinical Exam. He was also elected to the Commission on Dental Accreditation for a 2022-2026 term.
Dr. Leone was inducted as a fellow in the American College of Dentists in 2018 and received the BU Chapter of the American Student Dental Association's Faculty Award for Outstanding Dedication and Service to Dental Students and Organized Dentistry and the 2012 Spencer N. Frankl Award for Excellence in Teaching.
In the coming weeks, Provost Morrison will announce the formation of a Dean's Search Advisory Committee to help identify a permanent dean for the Goldman School of Dental Medicine. Thank you to Dr. Leone for his willingness to serve during this time of transition and Dean Hutter for his 12-plus years of exemplary leadership at GSDM and his distinguished service to the nation as an officer in the US Navy.