GSDM Student Participates in International United Nations Innovation Lab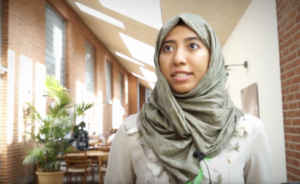 Dr. Alaa Qari, DScD candidate in Dental Public Health at the Henry M. Goldman School of Dental Medicine (GSDM), was selected as one of the 1000 global talents from 129 countries to participate in UNLEASH, a fully-sponsored innovation laboratory that took place in August 2017 in Copenhagen, Denmark.
UNLEASH was an immersive experience designed to have participants co-create innovative, implementable, and scalable solutions to the sustainable development goals (SDGs) of the United Nations. Dr. Qari was one of three dentists invited to attend the program and focused her efforts on designing an innovative solution to address the third UN SDG, which aims to ensure healthy lives and promote well-being for all ages.
Over the nine-day challenge, Dr. Qari's team tackled the mothers and families subtheme –  specifically addressing lack of access to emergency care for women who experience pregnancy complications due to difficulty in reaching proper health facilities in Sub-Saharan Africa. Their solution is to leverage big data to optimize health resource deployment to maximize coverage of pregnant women.
After designing the intervention and fine-tuning the product with Deloitte facilitators, the prototype was tested in the community, and then pitched to fellow competitors and potential investors. UNLEASH is preparing a project catalog for distribution to investors, companies, mentors, and others in UNLEASH's network who are interested in helping competitors move their solutions forward.
A video interview with Dr. Qari at UNLEASH can be seen here: https://www.youtube.com/watch?v=85T2D-fVO9A&feature=youtu.be