Barriers to Integrated Pediatric Dental Care Common at Federal Health Centers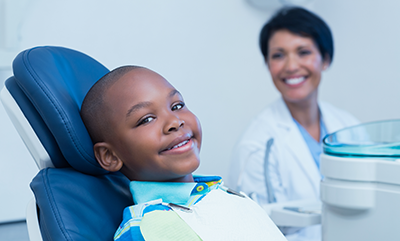 Time constraints, professional boundaries, and a lack of training and shared electronic medical records are among the key reasons why oral health often is not integrated into pediatric primary care at federally qualified health centers, according to a new study led by a School of Public Health researcher.
The study, published in the journal Preventing Chronic Disease, looked at how children's dental care was handled at six health clinics in Maryland and Massachusetts. It found no correlation between success at dental integration and factors such as clinic size, patient characteristics, geographic location, or budget. For example, the most under-resourced clinic was "the most highly integrated," the authors said.
Instead, strong leadership with a commitment to cross-disciplinary collaboration was critical to ensuring that dental care was integrated into pediatric care, the study found. Recommendations that emerged from interviews with clinicians and staff include identifying oral health "champions," forming an oral health committee, providing on-site workshops in oral health, and increasing funding for oral health at federal health centers.
The study found that administrators and staff at the clinics understood and supported the importance of oral health for young children. The US Preventive Services Task Force recommends that all children receive fluoride varnish starting at the age of six months or at the first tooth eruption. But, the authors noted, pediatric providers in health clinics often are the only source of oral health education for low-income children, and recent studies have confirmed gaps in oral care and referral rates for children on Medicaid assistance.
In clinics that did provide dental services, clinicians reported that "multiple clinic priorities" limited the amount of time available for cross-specialty communication. Co-location of pediatric and dental services in a clinic was not a guarantee that a child would be seen by a dentist, but instead was "only the initial step toward implementing interdisciplinary care," the study found.
"There was general agreement that integration could happen only with leadership and vision at the top," said the study's lead author, Judith Bernstein, professor of community health sciences and of emergency medicine at the School of Medicine. "Upper-level administrators' involvement was seen as critical in setting the tone for clinic priorities and empowering the staff."
The study was sponsored by the Center for Research to Evaluate and Eliminate Dental Disparities (CREEDD) at the Henry M. Goldman School of Dental Medicine, under the leadership of Raul Garcia, chair of the Department of Health Policy & Health Services Research, and was done in collaboration with researchers from the University of Maryland School of Dentistry. Co-authors include Paul Geltman, a pediatrician with a joint appointment at SDM, and recent alumnae Christina Gebel and Ashley Walter.
Submitted by Lisa Chedekel