Events to Celebrate National Postdoc Appreciation Week Sept. 15-19
Join in celebrating the contributions and achievements of BUMC postdocs at the fourth annual GMS celebration of National Postdoc Appreciation Week, September 15-19.

Monday, Sept. 15 – Friday, Sept. 19th Take Your Postdoc to Lunch
PIs will have a chance to appreciate their postdoc by taking them to lunch at following participating restaurants:  Roka, Estragon, El-Centro.  By showing your BU ID you will receive 10-20 percent  discount.   Email: Yolanta@bu.edu for more information.
Wednesday, Sept. 17 Ice Cream Social
1-3:30 p.m. Talbot Green (Rain location Hiebert Lounge, BUSM Instructional Building)
This event celebrates the contributions and achievements of BUMC postdocs and provides the opportunity to have fun and to meet other members of the BUMC community.
Open to: Postdocs, their Principal Investigators, PhD students and administrative staff.
Friday, Sept. 19 Interactive Workshop: Surviving Academia
Dr. Isabel Dominguez
12:30-1:30 p.m. BUSM Instructional Building, Room L-212 (Email: Yolanta@bu.edu to register)
Follow your passion, expand your comfort zone, find an advocate, jump at opportunities, hone transferable skills, build name recognition, create a support system, and hope for good luck if academia is where you would like to end up.  These tips and more will be offered by Isabel Dominguez at the interactive workshop. Open to: Postdocs and PhD students.  Lunch will be served.
PhD and Post Doc students are also encouraged to attend the following events:
Saturday, Sept. 20  MASS AWIS 10th Year Anniversary
11:30 a.m.-4 p.m.
Marriott Hotel, Kendall Square, Cambridge
For a decade, MASS AWIS has been providing support, career development and mentorship to many extraordinary women in the STEM fields in Massachusetts. A key event in our chapter's history — a book club on the book Every Other Thursday — sparked the beginning of the ever-growing MASS AWIS Mentoring Circles Program. Our successful mentoring program has made a profound impact on the lives of our members. Thus, we are truly honored to have the author of the book, Dr. Ellen Daniell, as the keynote speaker at our 10th Anniversary Celebratory Luncheon. The program of the event will also include a video introduction from Massachusetts Senator, Senator Elizabeth Warren, and an Excellence in Mentoring Award presentation to Career Strategist, Sarah Cardozo Duncan. BU GMS is proud to support this event.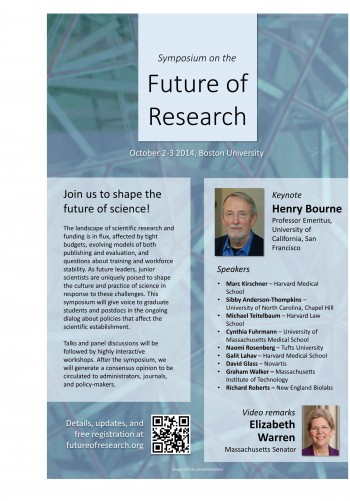 Thursday Oct. 2-Friday, Oct. 3 The Future of Research: a Postdoc-Organized Symposium on the Sustainability of the Scientific Endeavor
Boston University, CGS Auditorium, 871 Commonwealth Ave., Boston
The landscape of scientific research and funding is in flux, affected by tight budgets, evolving models of both publishing and evaluation, and questions about training and workforce stability. As future leaders, junior scientists are uniquely poised to shape the culture and practice of science in response to these challenges.  A group of postdocs in the Boston area invested in improving the scientific endeavor. This group represents  eight institutions: Boston University, Brandeis University,  Brigham and Women's Hospital, Dana Farber Cancer Institute, Harvard Medical School, Harvard School of Public Health, Massachusetts Institute of Technology and Tufts University. The event will include talks and panel discussions on issues affecting the future of science as well as breakout sessions expanding on many topics.