2013 University Lecture Nov. 6: The D-Lightful Vitamin D for Health, Given by BUSM's Holick
Professor of Medicine, Physiology, and Biophysics at BU School of Medicine Michael F. Holick, PhD, MD, will be delivering the 2013 University Lecture on Wednesday, Nov. 6 on the Charles River Campus. Dr. Holick will speak on The D-Lightful Vitamin D for Health.
Since 1950, the University Lecture has offered members of the BU community and the general public an opportunity to hear from distinguished faculty about the outstanding and often groundbreaking research and scholarship in which they are actively engaged.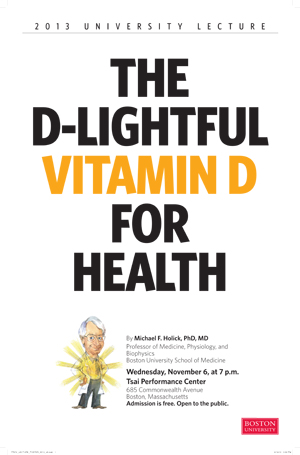 University Lecturers represent a vast array of disciplines and research topics, yet share a common commitment to excellence in scholarly inquiry and discovery. The annual lecture provides an opportunity to highlight the work of a distinguished scholar and engages both the University community and the broader public in the vibrant intellectual life of Boston University.
Dr. Holick is Professor of Medicine, Physiology and Biophysics at BU School of Medicine; Director of the General Clinical Research Unit; Director of the Bone Health Care Clinic; and Director of the Vitamin D, Skin and Bone Research Laboratory at Boston University Medical Center.
He has made numerous contributions to the biochemistry, physiology, metabolism, and photobiology of vitamin D for human nutrition, among them, establishing global recommendations advising sunlight exposure as an integral source of vitamin D. He has also helped increase awareness regarding vitamin D deficiency pandemic, and its role in causing not only metabolic bone disease, and osteoporosis in adults, but increasing risk of children and adults developing preeclampsia, common deadly cancers, schizophrenia, infectious diseases including TB and influenza, autoimmune diseases including type 1 diabetes and multiple sclerosis, type 2 diabetes, stroke and heart disease.
Dr. Holick is a Diplomate of the American Board of Internal Medicine, a Fellow of the American College of Nutrition, and a member of the American Academy of Dermatology and the American Association of Physicians.  He has received numerous honors, including the General Clinical Research Centers Program Award for Excellence in Clinical Research from NIH, American College of Nutrition's Communication Media Award, Best Docs in America, and the Linus Pauling Prize for Human Nutrition.  He has authored more than 400 peer-reviewed publications, edited or co-edited 13 books, written The UV Advantage (2004) and The Vitamin D Solution (2010), and helped develop the dminder.info app.
2013 University Lecture
Dr. Michael F. Holick
The D-Lightful Vitamin D for Health
Wednesday, Nov. 6, 7 p.m.
Tsai Performance Center
685 Commonwealth Avenue
Charles River Campus
Admission is free. The public is invited.