Seeking New Homes for Gently Used Lab Equipment
Attention researchers! Did you know that there is a resource to facilitate the reuse/recycle of surplus research equipment within the BU Medical Campus community? Visit the BUMC Equipment Exchange.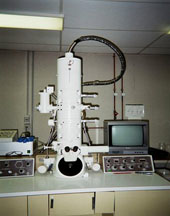 This week the Exchange is featuring a donation from the Department of Anatomy & Neurobiology: a JEOL 100S TEM microscope. This one owner scope can be fitted with a digital camera. It has been meticulously maintained and is under maintenance contract with Jeol. The scope is fully functional and currently plugged in and under vacuum. Although it is approximately 25 years old, it was last used about six months ago. It is valued at $250K.
Here are particulars on the piece of equipment
Tungsten filament
Voltage acceleration range: from 40 to 100 kV
Maximal resolution: 5 Å
Magnification range: from x 1000 to x 200 000
Specimen tilt angle: ± 10 °
Data acquisition on photographic film
Keep in mind that the cost of moving this scope is approximately $11K and maintenance is about $16k annually.
To learn more, please contact Office of the Vice Provost for Research, at aprbumc@bu.edu