Celebrate National Postdoc Appreciation Week Sept. 17-19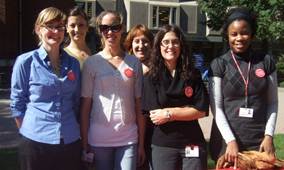 The GMS Office of Professional Development and Postdoctoral Affairs is celebrating National Postdoc Appreciation Week (NPAW)  Sept. 17-19. The list of events includes an ice cream social, seminar on scientific storytelling and a communication styles workshop.
Tuesday, Sept. 17, 1:30-3 p.m., the NPAW kicks off with an ice cream social on Talbot Green in front of the BU School of Medicine Instructional Building. Join us in celebrating the contributions and achievements of our postdocs!
Wednesday, Sept. 18, Dr. Rafael Luna presents a seminar on "Scientific Storytelling" relevant to trainees. The seminar will be held noon-1:50 p.m. in room L-212/214 and lunch will be provided.
Thursday, Sept. 19, features Sarah Cardozo Duncan a career strategist who will be presenting a workshop on "Communication Styles" that is relevant for all trainees. This seminar will be held 5:30- 7 p.m. with a reception preceding the presentation.
Since 2009, the National Postdoc Association has sponsored NPAW to recognize the significant contributions that postdoctoral scholars make to U.S. research and discovery. Institutions from across the country and other parts of the world participate by holding special events. In 2010, this week was officially recognized by the U.S. House of Representatives. In 2012, 112 institutions in 32 states and Canada hosted 203 events to show their appreciation of postdocs.
All of those who support the postdoctoral community at BU Medical Campus are invited to attend these special events. Please email Yolanta Kovalko to register or for more information.