BU Researchers Conduct Innovative Internet-Based Fertility Study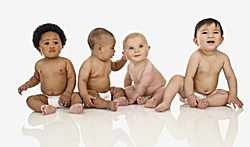 BU researchers are studying whether selected lifestyle factors can affect fertility, miscarriage and adverse birth outcomes over a 12-month period. PRESTO (PREgnancy STudy Online) is an innovative online fertility study funded by the Eunice Kennedy Shriver National Institute of Child Health and Human Development (NICHD) and conducted by researchers at Slone Epidemiology Center at Boston University and the Boston University School of Public Health (BUSPH).
"Internet-based research has potential to substantially reduce the expenses of large prospective cohort studies and change the practice of epidemiology as we know it," said Lauren Wise, SciD, Associate Professor at BUSPH and the Primary Investigator for PRESTO. "We have been conducting a similar Internet-based study in Denmark since 2007, and both recruitment and follow-up have been very successful. In our new study, we are particularly interested in finding out whether Americans are as receptive to Internet-based research as are Danes. We predict that we will achieve the same level of success in the United States."
Wise recently conducted a separate study which similarly explored body size and fertility, finding that African-American women who were overweight had a greater risk of delayed conception and infertility compared with women who were of normal weight.
To participate in PRESTO, eligible female residents of Massachusetts will be asked to complete one 30-40 minute online questionnaire at enrollment and up to six shorter questionnaires (10-15 minutes) every two months or until pregnancy occurs. An optional online dietary questionnaire will be e-mailed to the female participant 10 days after enrollment. Female partners also will be given the opportunity to invite their male partners to complete a 20-25 minute questionnaire via the Internet. Half of female participants will be randomized to receive a complimentary subscription to FertilityFriend.com.
Interested individuals should visit the PRESTO study website, or contact Alexandra "Lexi" Kriss at aekriss@bu.edu or 617-734-6006.