Schweitzer Fellow Andrew Soule-Hinds DMD 15: On a Mission to Improve Dental Care for Underserved
Boston University Henry M. Goldman School of Dental Medicine (GSDM) student Andrew Soule-Hinds DMD 15 was chosen in March 2013 for the highly selective Boston Albert Schweitzer Fellowship. He joins the nearly 500 Schweitzer Fellows who have collectively delivered over 90,000 hours of service to communities in and around Boston and Worcester since the program's founding in 1992. Each Fellow executes a yearlong project that provides service to the local population.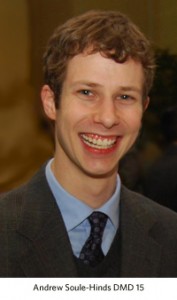 According to the Schweitzer Fellowship website, "the Boston Schweitzer Fellows Program is the oldest of thirteen Schweitzer program sites across the U.S. dedicated to developing a pipeline of emerging professionals who enter the workforce with the skills and commitment necessary to address unmet health needs."
According to Associate Dean for Global and Population Health Dr. Michelle Henshaw, "The Henry M. Goldman School of Dental Medicine, in collaboration with Boston University's School of Medicine, School of Public Health, and Sargent College, sponsored Boston University's membership in the Schweitzer Fellowship Program's Consortium of Universities. The fellowship provides talented students from diverse health professions the opportunity to become leaders in service by learning from nationally recognized experts and from each other. By entering into the consortium, the University has ensured that the four remarkable Schweitzer Fellows from Boston University will have a structured venue to share their knowledge, skills, and expertise with each other and the opportunity to jointly design and implement an outreach project for an underserved community in Boston."
Dr. Henshaw continues, "Past fellows have had a tremendous impact on the health and quality of life of the communities they served and report that the fellowship was one of the most meaningful experiences of their education. I predict that this year's Interprofessional collaboration will have a synergistic effect, enhancing the experience for the students and the positive impact on the community. I can't wait to see what Andrew and his peers accomplish during their fellowship year."
This is the second year in a row that a GSDM student has chosen to dedicate their service to the community under a Schweitzer Fellowship. As a 2012–13 Schweitzer Fellow, Dhara Shah DMD 13 has been working on a mission to establish a sustainable and duplicable dental program with Harbor Area Early Childhood Center.
The target population for Soule-Hinds's project is survivors of human trafficking living in the greater Boston area, typically women in their twenties. These survivors usually have had little or no health care while being trafficked, including oral health care. Soule-Hinds discusses his choice of this topic, "Not even a month ago I was unaware that human trafficking was something that existed in my area. Knowing that such a horrific problem exists, and knowing that it exists in our own neighborhood was a harsh realization for me. As I learn more about the problem, and what can be done to help, I look forward to sharing what I have learned with others."
A significant part of Soule-Hinds's project is dedicated to learning more about the needs of human trafficking survivors, especially gaining specialized sensitivity training to understand how to customize a treatment environment for people who have endured this specific type of trauma. He will be working with the non-profit organization Amirah, dedicated to providing "whole person aftercare for survivors of commercial exploitation." His goal is to add oral health care to the health services offered by Amirah.
The execution of Soule-Hinds's project will entail coordinating oral health care for the human trafficking survivors. These appointments will take place in a customized environment where the survivors will be treated by GSDM practitioners who have undergone sensitivity training. The long-term goal is to establish a working relationship with Amirah so that GSDM can continue to help survivors of trafficking.
Soule-Hinds first became aware of populations underserved in medical and oral health care as he grew up in rural Maine. Though he didn't know what form it would take, he knew that he wanted to bring oral health care to people who would otherwise not be able to obtain it. Soule-Hinds explains, "At the end of the fellowship I will have created a successful project linking an under-served population with the oral health care that it needs. In doing so I hope to have developed the organizational and leadership skills required to coordinate other multidisciplinary health projects in the future. I feel that giving back to others is one of the best ways I can appreciate opportunities that have been given to me."
Dean Jeffrey W. Hutter adds, "Congratulations to Andrew on becoming a Schweitzer Fellow. His plan to provide oral health care to an underserved population exemplifies the mission of the Henry M. Goldman School of Dental Medicine to promote excellence in community service and to improve the overall health of the global population."
Submitted by Mary Becotte, GSDM Communications.