May 12 Performance by BUMC Arts Outreach Initiative Artists and BMC Patients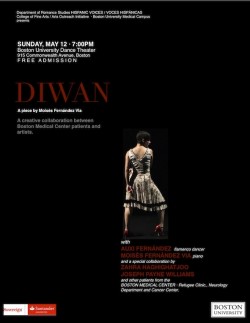 The BU Medical Campus Arts Outreach Initiative invites all members of the Medical Campus community to an innovative performance project conceived to support and honor the recovery of a selected group of patients from the Boston Medical Center's Refugee Clinic, Cancer Center and department of Neurology. "DIWAN" is a pilot experience in creative collaboration between artists and patients, where participants will join on stage with acclaimed Spanish artists including flamenco dancer Auxi Fernández and pianist Moisès Fernández Via.
"This performance is an innovative dialogue between music, theatre, dance, and the passionate poetic world of Andalusian poetry. It is a garden for the senses," explained Moisès Fernández Via, Project Curator and Researcher for the Arts Outreach Initiative. The initiative is an unprecedented partnership between Boston University College of Fine Arts (CFA) and the Medical Campus. Moisès serves as CFA's liaison in the Medical Campus identifying, developing and implementing opportunities to foster interdisciplinary dialogue, building productive relationships between artistic creativity and health care practice.
DIWAN
Sunday, May 12, 7 p.m.
Boston University Dance Theatre, Charles River Campus
915 Commonwealth Avenue, Boston
Free admission