GSDM Faculty Publishes Tutorial, Informs on Oral Anticoagulation Therapy
Increasing life expectancy and a growing elderly population lead to a high prevalence of chronic illnesses, including heart disease and stroke. These diseases often necessitate antithrombotic (blood thinning) therapy to prevent thromboembolic events, such as a heart attack, stroke, or, in some cases, pulmonary embolism.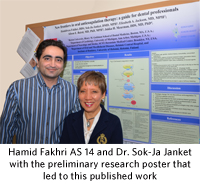 Antithrombotic therapy can help an ailing heart by thinning the blood and letting it flow easily so the heart does not have to pump as hard. However, it increases the chance for bleeding episodes after dental extractions or other dental surgery.
To improve the dental community's understanding of oral anticoagulation, Research Associate Professor Dr. Sok-Ja Janket published the article, "Tutorial in anticoagulation therapy" (e-version) in Medicina Oral on Monday, March 25, 2013. The issue will be available in print on May 1, 2013.
The first author is Hamidreza (Hamid) Fakhri AS 14. He presented preliminary research on the topic in the 2012 Science Day competition as a pre-matriculated student.
In the guide, the researchers encourage dentists to "fully participate in the medical decision-making for the peri-surgical management of patients on oral anticoagulation therapy."
Renowned stroke expert Dr. Alison Baird, who had a smaller contribution to the research, applauded the team's findings. Among the most significant is that Warfarin, one of the most commonly used oral anticoagulants, stays in the therapeutic range only 60% of the time and the effective blood level fluctuates with diet. Therefore, it is crucial to test the effective blood level of this medicine by international normalized ratio (INR) two to three days before the dental procedure.
Dr. Janket praises Fakhri's dedication to research.
"Hamid really worked hard and I salute his efforts," she says. "One of the most rewarding aspects of my job as a teacher is that my student actually encouraged me to reach for a higher goal."
Also co-authoring the paper are Dr. Elizabeth A. Jackson, assistant professor of preventive cardiology and internal medicine at the University of Michigan; Dr. Alison E. Baird, professor of neurological disorders and stroke at SUNY Downstate Medical Center in Brooklyn; Dr. Richard Dinnocenzo, clinical associate professor of oral and maxillofacial surgery at GSDM; and Dr. Jukka H. Meurman, professor of oral and maxillofacial diseases at the University of Helsinki.
"I commend the authors for adding to the dental profession's knowledge of this critical topic," says Dean Jeffrey W. Hutter. "Special congratulations go to Hamid Fakhri for his early and continued interest in pursuing research."