GSDM Science Day Keynote Addresses Gum Disease/Diabetes Link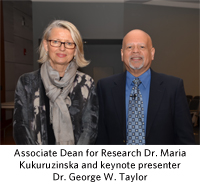 The diabetes epidemic is being worsened by the prevalence of chronic periodontal disease, according to current research. Both are lifestyle-related diseases that are considered biologically linked.
Dr. George W. Taylor researches the relationships between oral and systemic health, particularly the connection between periodontal infection and diabetes. He discussed how treating periodontal disease may improve diabetes outcomes as the keynote presentation on Science Day, "Periodontal Disease: Evidence for its Role in the Diabetes Epidemic," Thursday, March 14, 2013, at Boston University Henry M. Goldman School of Dental Medicine.
"Given the current evidence," Dr. Taylor says, "it is prudent to consider treating periodontal infection in people with diabetes as an important component of their overall diabetes management."
Science Day is a research celebration that features a keynote address; posters and oral presentations by pre- and post-doctoral dental students, post-doctoral fellows, faculty, and staff; and a dental vendor exhibition. Fifteen judges evaluated twenty-five posters and twelve oral presentations.
Winners were awarded in five categories:
Pre-doctoral poster
Sonal Chhanabhai, Grace Hannawi, Bruce Herrara, Hatice Hasturk, Thomas Van Dyke, and Alpdogan Kantarci. Department of Periodontology at Forsyth Institute: "Impact of Platelets on Neutrophil Function."
Pre-doctoral oral presentation
Martha Neely, Lillelany Santana, Susan Rich, Pushkar Mehra, and Judith Jones. Department of General Dentistry: "A Retrospective Review of Emergency Room Visits for Dental Reasons in Adults."
ADA/Dentsply Award
Erik Harriman, Yoshio Ohyama, and Yoshiyuki Mochida. Department of Periodontology and Oral Biology: "Characterization of Wdr72 Knockout Rats, Causative Gene for Amelogenesis Imperfecta."
Post-doctoral poster
Adriana Valery-Lara, Guoxian Wei, Na Tian, Frank Oppenheim, and Eva Helmerhorst. Department of Periodontology and Oral Biology: "Gluten-degrading bacteria From Human Fecal Samples."
Post-doctoral oral presentation
Najla AlRejaye, Richard Pober, and Russell Giordano. Department of Restorative Sciences/Biomaterials: "Strength of Esthetic Brackets During Archwire Tipping."
Judges, presenters, and mentors are invited to attend the Science Day Awards Luncheon scheduled to take place on Tuesday, April 9, 2013, from 11:30 a.m.-1:30 p.m. in Hiebert Lounge.
Photos are available on Facebook and Flickr.