GSDM Collaborates with Mil Milagros "A Thousand Miracles" in Guatemala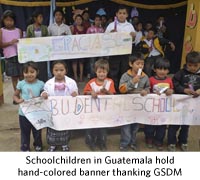 To those familiar with Boston University Henry M. Goldman School of Dental Medicine (GSDM) community outreach programs, it may not come as a surprise that the School recently partnered with an organization whose name translates from Spanish as "a thousand miracles." In January 2013, GSDM Assistant Director of Extramural Programs Ms. Kathy Held and frequent international externship supervisor Dr. Fred Kalinoff joined the organization Mil Milagros to lead a fluoride clinic at a school in Chutinamit, Guatemala.
Mil Milagros is a Boston-based non-profit organization founded in 2007 by Margaret Blood. The organization works in Guatemala with the mission to prevent malnutrition and hunger and to ensure that children complete sixth grade, literate and healthy.
Under the direction of Held and Kalinoff, 42 children from Chutinamit and the nearby community of Xecotoj received fluoride treatments and toothbrushes. While there, Held trained 15 mothers as well as Mil Milagros staff members to administer fluoride treatments. The training will enable the mothers and staff to add fluoride treatment to their services, helping prevent cavities, tooth decay, and hypersensitivity. In addition, Mil Milagros' very own Captain Cavity Fighter was on hand to give a lesson on good oral hygiene to the children.
This recent collaboration of GSDM with Mil Milagros represents a potential future partnership between the School and the organization for an additional international externship opportunity for dental students. Most importantly, it presents an opportunity to improve the oral health of disadvantaged children.
Said Dean Jeffrey W. Hutter, "I commend the efforts of Ms. Kathy Held and Dr. Fred Kalinoff to continue the global expansion of the Boston University Henry M. Goldman School of Dental Medicine community outreach programs. On behalf of the entire School, I extend my gratitude for their efforts."
Submitted by the GSDM Communications office.