GSDM 50th Birthday Celebration Kicks Off at Yankee Dental Congress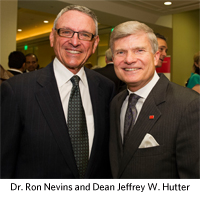 The 2013 Yankee Dental Congress (YDC) was especially celebratory for the Boston University Henry M. Goldman School of Dental Medicine (GSDM). Our School celebrated its 50th anniversary, welcomed back alumni, and saw Nadia Malik DMD 13 honored by the American College of Dentists.
At the Boston Convention & Exhibition Center, alums reconnected at the GSDM Alumni Lounge. A photo slideshow of the School's first 50 years played throughout the Congress. Also exhibiting was GSDM Continuing Education, whose representatives promoted upcoming continuing education opportunities.
We celebrated the past, present, and future of our School at a 50th Anniversary Pre-reception Celebration on February 1, 2013. The special guests invited were closely involved in planning the anniversary celebration. They were:
the Honorary Committee to Plan the 50th Anniversary Celebration of the Founding of the Henry M. Goldman School of Dental Medicine
the Dean's Advisory Board
the GSDM Executive Committee
the GSDM Alumni Association Board
Later that evening 1,125 alumni,faculty, staff, students and friends gathered for a reception and 50th Anniversary Kickoff Celebration.
"It means a great deal to me," Dean Hutter said, "to see our community gather in such numbers to celebrate our past and gather our momentum as we continue our move forward into the future of our School and our University."
Ron Nevins PERIO 67 received the alumni award for Service to the Profession. Dr. Nevins' many hats include dental educator, practitioner, editor, American Academy of Periodontology leader, former Board director, founder and President of Perio Implant Research, Inc., and supporter of our School.
Special guests spoke, praising the past, present, and future of GSDM:
BU Provost and Chief Academic Officer Dr. Jean Morrison
American Dental Association President Dr. Robert Faiella
American Dental Education Association President Dr. Gerald Glickman
Dean's Advisory Board Chair Dr. David Lustbader
BU Alumni Council President Dr. Shadi Daher
GSDM Alumni Association President Dr. Mitch Sabbagh
Chair of the Committee to Plan the 50th Anniversary Celebration Dr. Thomas Kilgore
Dean Hutter concluded the program by saying, "Together, we can build on the momentum of a legacy of innovation and fund our proposed new facility to provide us with the infrastructure required to bring excellence to all of our programs as we build together a future that is truly great for our Henry M. Goldman School of Dental Medicine and our Boston University and we realize my and what I know is now your vision of becoming the Premier academic dental institution in the world, promoting excellence in dental education, research, oral health care, and community service to improve the overall health of the global population."
A video commemorating the past 50 years and the future of our School then premiered at the reception.
Dean Jeffrey W. Hutter presented fourth-year DMD student Nadia Malik the American College of Dentists Senior Student Award at a luncheon on February 2, 2013.
Dean Hutter said, "Since first meeting Nadia during her Class of 2013 orientation in August 2009, I have been continually impressed with her intelligence, dedication, motivation, can-do attitude, and wonderful personality. As with the other student award winners here with us this afternoon, Nadia represents the reason why the future of our profession is so very bright."
Photos from YDC are available on Facebook and Flickr.
Submitted by GSDM Communications.