BUSM Faculty Discusses Chinese Medicine and Healing, Feb. 12
Learn about Chinese healing practices across time and cultures with Linda Barnes, PhD a medical anthropologist and a scholar in the study of world religions. She is a nationally regarded expert in the field of Chinese medicine in the U.S. and has served as an expert reviewer for the National Institutes of Health's National Center for Complementary and Alternative Medicine.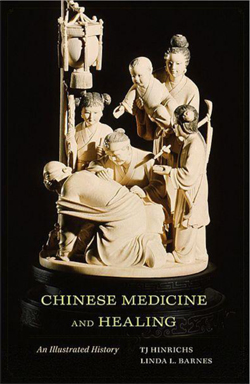 Dr. Barnes is an Associate Professor in the Department of Family Medicine at Boston University School of Medicine (BUSM), and in the Division of Religious and Theological Studies in the Graduate School of Arts and Sciences.
She is one of the editors of Chinese Medicine and Healing and will be leading a discussion on Feb.12, 7 p.m. at Barnes & Noble at BU. Chinese Medicine and Healing is an illustrated history that explores the emergence and development of a wide range of health interventions, including divination, meditative disciplines, herbal remedies, and acupuncture.
Chinese Medicine and Healing
Linda Barnes, PhD
Feb. 12, 7 p.m.
Barnes & Noble at BU, Charles River Campus
660 Beacon Street
Boston