Challenges Become Opportunities on GSDM Mexico Mission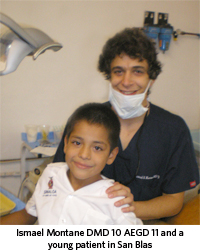 As you might imagine, coordinating an international externship is a feat when unexpected challenges happen. That was the case when Erik Engelbrektson, Patrick Moore, and Josephine Verde, all GSDM DMD 13, set out for San Blas, Mexico, Oct. 4-15, with LIGA International.
Mission supervisor Dr. Fred Kalinoff was forced to cancel his trip last minute for medical reasons, leaving GSDM students without a mentor and unable to practice dentistry. Thanks to quick thinking from Assistant Director of Extramural Programs Kathy Held and a lot of compassion from Ismael Montane DMD 10 AEGD 11, the group had a new preceptor—Montane—just days later. After receiving the phone call from Held, Dr. Montane jumped on a plane to Mexico.
Montane participated in a Project Stretch mission as a student in 2010 and returned as a co-supervisor with Frank Schiano CAS 01 DMD 06 AEGD 07 earlier in 2012. This time, Montane led his team in providing comprehensive care. In a letter to Montane following the trip, Held said: "The tasks you faced and your judgment calls were commendable."
The team treated 60 patients a day totaling 240 patients. Montane estimates the team did in one week what a private practice in the U.S. would accomplish in several weeks.
"Each day on a mission trip is probably equivalent to a week in a clinic in the U.S.," says Montane. "When you go back to school, it gives you a better frame of reference for how to approach each situation. You become a clinician."
Engelbrektson agrees.
"You don't have your hand held on an international externship," he says. "Now, as we return to school, we have more knowledge and experience so we can make stronger decisions while still under faculty supervision in the patient treatment center."
Engelbrektson reflects on how the residents affected him: "They were so gracious even if they had waited the whole day. Every time they'd leave and smile, that just gave me energy for the next patient."
The team visited four area schools to offer screenings to about 400 children. They invited to the clinic those who needed fillings and extractions.
Verde reflects on the tough choices required of them: "It's challenging because you know you're fixing a problem by extracting a bad tooth, but you also know you're potentially causing a problem down the road."
Verde, Engelbrektson, and Moore all recall the mission as an incomparable learning experience. As for Montane, he enjoyed his new role as a team leader.
Said Dean Jeffrey W. Hutter, "On behalf of the entire Boston University Henry M. Goldman School of Dental Medicine community, I would like to express appreciation for Dr. Montane's enthusiastic readiness to step in for mission supervisor Dr. Fred Kalinoff so that the students could treat these needy patients. Dr. Montane has demonstrated the core values of responsibility, excellence, and service that the Goldman School of Dental Medicine aims to instill in all of its students."