GSDM Students Explore Culture and Clinic on Guatemala Externship
GSDM students Jennifer Rubin DMD 13 and Elizabeth Ponder DMD 13 volunteered for two weeks in Comitancillo, Guatemala (Comi), with Dentistry for All (DFA) and its founder, GSDM alum Brad Krusky DMD 93. The experience was educational in not only a clinical, but also a cultural sense.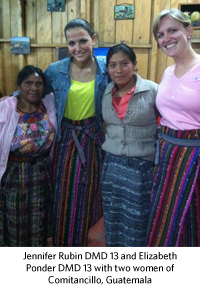 Rubin and Ponder immersed themselves in the traditional Mayan culture of "Comi." They learned the town's unique handshake. In keeping with conservative customs (which apply to both women and men) they covered their knees and toes and sometimes wore the floor-length traditional skirts local women wear. They had dinner with the mayor, his wife, and his children, and treated them in the clinic later that week.
DFA is unique in that it charges patients a small amount for treatment (equal to about 70 cents). The money goes to a charity to benefit Comi, so the money goes back to the town. In Comi and surrounding villages, many residents are in need of decent clothes and shoes that do not have holes. DFA brought new and gently used shoes and clothes it had collected in the U.S. Patients with the greatest need were offered the chance to choose what they needed from this collection.
DFA returns to the area every six months, so residents are likely to have follow-up appointments with dentists. Rubin and Ponder worked from around 7 a.m. to 6 p.m. and treated seven or eight patients daily. The DFA team treated about 500 people in their two weeks in Comi.
Although the volunteers focused on restoring teeth rather than having them extracted, many of the teeth had to be extracted. "We are pros at extractions now," Rubin said. "We both want to study pediatric dentistry too and we learned so much from our DFA mentors, who are pediatric dentists."
Rubin noted that the experience proved to them and their mentors how superior the DMD education is at GSDM.
In addition to extractions and restorations, Rubin and Ponder made stainless steel crowns for adults and even made veneers for an 11-year-old girl with a malformation that caused staining across many of her teeth.
DFA is a relatively new externship to GSDM. This is only the third time GSDM students have joined DFA in Guatemala. Previously, Stephanie Trajan and Katy Bednar went in 2011 and 2012, respectively. All students, including now Rubin and Ponder, expressed interest in returning as soon as possible.
"International elective externships such as this not only provide unparalleled experiences for our students but also much needed access to care for the patients they treat," said Dean Jeffrey W. Hutter.
Photos are available on Flickr and Facebook.