Second Year of Record Attendance for GSDM Alumni Reception Held at AAP Annual Meeting
On Oct.1, 75 alumni and friends of the Boston University Henry M. Goldman School of Dental Medicine (GSDM) gathered at the JW Marriott in Los Angeles for the School's alumni reception held every year during the American Academy of Periodontology (AAP) Annual Meeting.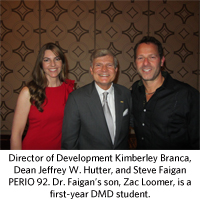 Professor and Chair of Periodontology & Oral Biology and Director of the Advanced Specialty Education Program in Periodontics Dr. Serge Dibart said of the gathering, "For the second year in a row we had record attendance at our AAP alumni reception in Los Angeles. Alumni from all over the U.S. came and mingled. There was a good mix of older and newer graduates. People had a very good time."
Dr. Dibart also noted that he received many positive comments on his two AAP meeting lectures on the topic of Piezocision™, a new, minimally invasive procedure that combines micro-incisions and localized piezoelectric surgery.
Before addressing the attendees of the alumni reception, Dean Jeffrey W. Hutter took a moment to recognize Dr. Dibart, who was attending the AAP Annual Meeting in his second year as the GSDM Chair of Periodontology & Oral Biology; Dr. Paul Fugazzotto (PERIO 81), the newest member of the GSDM Dean's Advisory Board; Dr. Ron Nevins, member of the School's 50th Anniversary Celebration Committee; Steve Polins PERIO 73 for celebrating his 40th year as a member of the GSDM faculty; and Kimberley Branca, Director of Development at GSDM.
Dean Hutter updated the audience on a number of exciting developments at GSDM. Among them is the official Campaign Kickoff of Boston University's billion dollar fundraising campaign, the first of its kind for the University. Dean Hutter also discussed the steady progress being made in implementing the Applied Strategic Plan launched in March 2011, including the plans for a new facility for the School.
In closing, Dean Hutter said, "It is truly an honor and a privilege for me to serve as the Dean of our Henry M. Goldman School of Dental Medicine, and Kathleen and I look forward to working with each and every one of you as we go forward in our Fundraising Campaign and in so doing realizing together our vision for the Boston University Henry M. Goldman School of Dental Medicine to be the premier Center of Excellence in Oral Health Education, Research, and Patient Care in this nation and the world."
Looking forward, the GSDM Alumni Reception at the 2013 AAP Annual Meeting— held in the 50th Anniversary year of the School's founding—portends to be another year of success and record attendance.
Photos from the reception are available on Facebook and Flickr.